JANUARY
-----------------------------------------------------------------------------------
21 missing youth from Kerala traced to IS camp in Afghanistan
The 21 persons from
Kerala
who went missing between June and July,and who were suspected to have joined the
Islamic State
are likely to be launched into India soon. A major breakthrough in this case came on Thursday, with the Intelligence Bureau, with the help of foreign agencies tracking the persons to an IS camp in Jalalabad.
OneIndia was the
first to report
that these persons were shifted to an IS-run camp at Jalalabad in
Afghanistan
. IB officials say that these operatives comprising women too are likely to be launched into India after their training is complete. "We are keeping a close watch," says an officer with the IB.
At first it was believed that these persons were being trained in a bid to set up a strong module of the IS in Afghanistan. However the indication now is that they are being trained to launch attacks in India. Officials do not rule out the possibility of more such persons leaving India to train at camps in Afghanistan. These persons are either landing in the Gulf or Iran before they make their way into Afghanistan, officials say.
It has also been found that there are operatives from Bangladesh and Maldives who are part of this camp in Jalalabad. "We are working closely with our counterparts in Afghanistan to nab these persons," an Indian official states. In June 2016, 21 persons from Kerala went missing. They had called their families and said that they had reached their final destination. At first, the Kerala police suspected that they may have joined a the
ISIS
in Syria. However intelligence that trickled in from Iran indicated the presence of these persons in Afghanistan. Indian agencies then coordinated with their counterparts in Afghanistan and after months of tracking it was found that they were settled in a camp in Jalalabad.
Afghanistan: IS abducts 14 teachers
Kabul, Jan 15: The Afghan Eduction Ministry on Sunday said the Islamic State terror group has kidnapped 14 teachers from Nangarhar province. The ministry said the incident took place on Sunday when students were busy with exams at the Mesher Mullah Sahib Madrassa in Kot district.
"A group of IS fighters entered the madrassa and left, taking 14 people with them," the ministry said.
50 Indians in Islamic State's Afghanistan camp: IB
Agencies say that the recruitment had taken place through social media. The social media account of Shajeer Abdullah from Kerala had come under the scanner. Abdullah, who is also in Afghanistan currently, is said to have used the social media to radicalise and recruit youth from Kerala.
His posts had called for a 'Holy War against the infidels'. He goes on to state that in order to serve Islam correctly, one needs to be part of the IS. He goes on to give tips on Jihad.
The IB says that there is a two-pronged strategy adopted by Abdullah. "He gives youth the option of joining the outfit or staying back home and carrying out attacks. He repeatedly says that those who are unable to come to Afghanistan could stay back and carry out attacks. He says that those wishing to serve the IS should carry out lone-wolf attacks. It is very easy to make a petrol bomb. Make one and target the Hindus in your city, he further advises the recruits," informed an IB official.
Why Padanna in Kerala is known as the Islamic State hub
Thiruvananthapuram, Jan 16: Padanna a village in Kasargod,
Kerala
boasts of a high social development especially when it comes to women. Several successful careers were made here and many have high paying jobs in West Asia. All that has changed today and this village is now being referred to as a hub for
Islamic State
related activities.
The parents of these youth are distraught. When the news first broke out in July 2016, Hakeem whose son Hafeesudheen had gone missing said, "If he is with some extremist outfit, then I do not want to see even his dead body." The statement by Hakeem makes it clear that there is a great deal of anger in Padanna which is today referred to an IS hub.
CONTINUE READING
In Afghanistan, mourning women join fight against Islamic State
Gul Bibi, an Afghan grandmother well into her eighties, never expected to become a fighter. But now she is one of more than a hundred women in Afghanistan's northern Jawzjan province who have taken up arms against Islamist militants. Nearly all of the women have lost a husband, son or brother to the Taliban or the newly active Islamic State in the province bordering Turkmenistan. "I lost nine members of my family....
CONTINUE READING
----------------------------------------------------------------------------------------------------------------------------
FEBRUARY
21 Keralites who joined IS instigating others, says NIA
The 21 persons from Kerala who went missing and were tracked to Afghanistan are currently active on the social media trying to instigate others, sources in the National Investigation Agency tell OneIndia. All these persons have been tracked to a camp at Jalalabad in Afghanistan, NIA sources also say.
These persons are suspected to have joined the IS in Afghanistan which operates under the banner of the Wilayat Khorasan. Probe officials say that these persons have not been on the battlefield since their entry into Afghanistan through Iran. They have been tasked with bringing in more people from
India
into Afghanistan.
An NIA officer said that some of them are busy on the social media luring youth to join them. "There is a close watch on their activities," the officer said while also adding that the Kerala police too have been alerted about more such cases.
The NIA probe shows that these persons from Kerala left the country in separate batches between June and July in 2016. Some of these persons told their families that they had reached their 'final destination'. They however did not reveal exactly where they were. These persons hailed from Kasargod and Pallakkad in Kerala.
Initially, it was suspected by the Kerala police that these persons may have joined the IS in Syria. However, intelligence that trickled in from Iran indicated the presence of these persons in Afghanistan. Indian agencies then coordinated with their counterparts in Afghanistan and after months of tracking it was found that they were settled in a camp in Jalalabad.
The IS has been nurturing ambitions in Afghanistan. "Although it has not met with much success, it is attempting to set up several camps with a majority of the operatives being from India. The Indian operatives too have preferred joining the camps in Afghanistan due to proximity to India and similar cultures."
Mumbai: NIA files charge sheet in ISIS Kerala youth case
Mumbai: The NIA on Thursday filed a charge sheet against two persons in connection with its probe in the alleged indoctrination of Kerala youths to join terror group ISIS.

The agency filed the compliant in a special court here against Arshi Qureshi (47) alias Arshid, a resident of Thane who has been arrested by the agency, and Abdul Rashid Abdulla (30), hailing from Kasaragod in Kerala, who is absconding.

The National Investigation Agency (NIA) said it has charged the two for "their involvement in unlawful activities and in spreading hatred against India and for providing support to the proscribed terrorist organisation ISIS by furthering its activities", under various sections of the Unlawful Activity (Prevention) Act.

The NIA took over the case from Mumbai police which had registered an FIR at its Nagpada police station. "The case relates to the indoctrination of complainant's son Ashfak Majeed and his associates into extreme jihadi ideology by a group of like-minded youths from Kasaragod district of Kerala and some members of the Islamic Research Foundation (IRF) Mumbai who motivated and radicalised Ashfak and his associates to join the ISIS.

"Investigation by the NIA has established that Qureshi was involved in unlawful activities and in spreading hatred against India and was furthering the activities of the ISIS," it said. Wanted accused Abdulla, it added, was the main conspirator behind the offence of "motivating Ashfak and a number of other youths from Kasargod and Pallakkad districts of Kerala to join ISIS".

"He professed and furthered the activities ISIS by showing them videos of the ISIS and also gave them lectures on violent jihad. He also financed the travel and stay of some of the missing youths," NIA said. Taking cognisance of the case, the court fixed the next of hearing in the case on February 17. The agency said it is trying to apprehend Abdulla even as the probe in this case is on.
Red Cross suspends aid work in Afghanistan after 6 staff killed by gunmen
Updated Feb 9, 2017,
Mazar-i-Sharif:
The International Committee of the Red Cross (ICRC) suspended operations in Afghanistan on Wednesday after gunmen killed six employees helping deliver emergency relief to a remote northern region hit by heavy snow storms.
The governor of Jowzjan province said the aid convoy was attacked by suspected Islamic State gunmen. The head of the ICRC called the incident the "worst attack against us" in 20 years, but the charity said it did not know who was responsible.
A search operation was underway to find two charity workers who were still missing late on Wednesday night.
Shootings, kidnappings
Taliban spokesman Zabiullah Mujahid said his group was not involved in the attack and promised that Taliban members would "put all their efforts into finding the perpetrators".
Gunmen in northern Afghanistan kidnapped a Spanish ICRC employee in mid December, releasing him nearly a month later.
That staff member had been travelling with three Afghan colleagues between Mazar-i-Sharif and Kunduz when gunmen stopped their vehicles. The local staff were immediately released.
CONTINUE READING
ISIS militants attack Afghan security posts, kills 17 soldiers
Published
Feb 17, 2017
Kabul, Afghanistan
: An Afghan official says the Islamic State group launched an attack on Afghan security posts killing 17 soldiers. Ahmad Ali Hazrat, chief of the provincial council in the province, said Friday the attack the previous night took place in the Dih Bala district in eastern Nangarhar province. Hazrat says IS attacked army security posts from three directions and after several hours of heavy fighting, 17 army soldiers were dead. General Doulat Waziri , spokesman for the Ministry of Defiance , says 21 IS fighters were killed.
Kerala youth who joined ISIS with 20 others, killed in Afghanistan
Feb 26, 2017, 3:19 pm IST (Deccan Chronicle)
Kasaragod:
A youth from Kerala, believed to have joined the ISIS has been killed in a drone strike in Afghanistan. The message was received by a distant relative of Hafesudheen Theke Koleth in Kasaragod, Kerala, who was from the missing 21-member group who have left the nation.
The message went on to say that the killed youth had been buried in Afghanistan.
Meanwhile, the National Investigation Agency (NIA), which is already probing the ISIS nexus in Kasaragod, has been informed of this development.
At least four out the 21 individuals, who belong to Christian and Hindu families, had converted to Islam over a year ago, reports state. Two of the individuals had reportedly sent text and voice messages to their families confirming that they have moved to a remote location. Earlier, the NIA had arrested two people in connection with the criminal conspiracy hatched within and outside India, with the intention of furthering the objectives of the Islamic State(IS) and for joining and supporting the organization.
Accused Abdul Rashid Abdulla, resident of Kasaragod district and Yasmeen Mohammad Zahid, resident of Sitamarhi district, Bihar were booked under under sections 120-B and 125 of the Indian Penal Code (IPC), besides sections 38, 39 and 40 of the Unlawful Activities (Prevention) Act (UAPA), 1967. The NIA probe established that accused Abdul Rashid was the main conspirator behind the offence of motivating youth, hailing from Kasaragod district to exit from India along with their families, to join the terrorist organisation.
According to officials, Rashid had conducted classes at Kasaragod and other places in support of the terrorist organization and its ideology of violent jihad. He motivated another set of 14 co-conspirators, including another arrested accused Yasmeen Mohammed Zahid, to join the proscribed organization and plan for Hijrah to the Caliphate announced by the ISIS. The investigation revealed that the conspiracy had been in operation since the month of July, 2015.
Rashid Abdulla tried to lure more people to ISIS, says NIA
Updated: Mar 12, 2017 (Hindustan Times)
Abdul Rashid Abdulla,wanted in connection with the Kerala Islamic State (IS) case, had tried to induce more people to join IS even after he left India, witnesses who were in touch with Rashid told investigating agencies.
After reaching ISIS camps, Rashid contacted his friends and classmates to talk about a course on Islam that he had attended in Sri Lanka. These people are now witnesses and their statements are part of the charge sheet filed by the National Investigation Agency (NIA) as part of the case registered by the father of one of the 22 missing young people.
In his conversations with these witnesses, Rashid tried to coerce them to join ISIS said he could tell them how to get there.
One of Rashid's close friends, whose identity has been kept a secret for security reasons, told the agency Rashid contacted him after he left India. "Rashid invited me to join him within two weeks. He told me that he would give me information about the route. However, I was uninterested and did not reply to him," said the witness.
The charge sheet contains the statements of Rashid's colleagues and staff of Peace Foundation as well as students who had participated in a course on Islam at Ad-dur Salaffiya in Sri Lanka. Sources said Rashid was in touch with 40 students, of which 18 were from India.
Rashid and other members were expelled from the course for propagating ISIS ideology among the students. A witness who knew that Rashid was in touch with some of the students, said Rashid invited one of his friends to join ISIS.
In his statement, he said one of the missing youth who had gone to Sri Lanka with Rashid had told him it was risky to go there and it was difficult to turn back.
One of Rashid's colleagues said he had tried to induce the foundation's staff and get them to join training sessions. The witness said Rashid used a browser to search for material that could not be traced by the agency. "I asked him how anyone could go to Syria. Rashid said that when people go to Turkey, IS recruits help them cross to Syria at the border," he told the NIA.
Rashid, who worked as the head of the other cognitive areas department (OCA) of the Peace Foundation, Kozhikode, was in a key position to influence young people to join ISIS, said the NIA. The agency said he would lecture the youth on Jihad and ISIS ideologies. Members were also shown videos propagating ISIS ideology and violence, reads the charge sheet file by the NIA.
Kerala ISIS case: Accused used farming to disguise group's activities, says NIA
Updated: Feb 10, 2017 (Hindustan Times)
Abdul Rashid Abdulla, wanted in connection with the Kerala ISIS case, used collective farming as a disguise to bring together and radicalise young Muslim men who allegedly went on to join ISIS. Abdulla had also voiced his support for the attack on the French magazine Charlie Hebdo in 2015, according to the charge sheet filed by National Investigation Agency.
The agency claimed that Rashid had been employed with Peace Foundation, Kozhikode, as head of its 'other cognitive areas' department since 2012, and that he would criticise democracy during discussions with colleagues. "They also supported the Charlie Hebdo attack in France and Abdul Rashid argued in support of it," read the charge sheet.
"Rashid also took the initiative for collective farming for the group on a piece of land at Kavumpuram, Mallapuram district, Kerala, to practice living a pure Islamic way of life. At this farm, after farming work, the group used to read religious book, offer prayer, discuss on debated topic like views on Islamic work, views on ISIS ideologies," read the charge sheet. It was during this period the men hatched a plan to leave India, the agency claimed.
----------------------------------------------------------------------------------------------------------------------------
MAY
'I hope US bombs kill them': A Kerala father disowns two sons who have joined ISIS in Afghanistan
It's the "ISIS hub of South India". That's the tag that's been foisted on the coastal Kerala village of Padanna since July, when 11 of its residents went missing, along with 10 men from other parts of the state, and were suspected to have traveled abroad to join the Islamic State of Iraq and Syria. Ten months later, media attention has returned to Padanna, following reports that three of those young men died recently while fighting for ISIS in Afghanistan's Nagarhar province.
News of the first death came on February 27, a day after 23-year-old Hafizuddin, a resident of the village, was reportedly killed in a drone strike. Ashfaq Majeed, one of the missing residents, sent a message via the Telegram app to BC Abdul Rahman, a social worker and a relative of the dead man. "Hafees was killed by a drone strike on February 26," it read. "He became shuhada [martyr]. We are all waiting for our turn to become martyrs."
CONTINUE READING
ISIS using Whatsapp from Aghanistan to talk to friends in Kerala: NIA
May 7, 2017 (Deccan Chronicle)
Kochi: The National Investigation Agency (NIA), while conducting a probe on the suspected ISIS members from Kerala, has discovered a WhatsApp group operating from Afghanistan that has been used to communicate with certain people in Kasargod, Kerala.
According to a report in The New Indian Express, the NIA had interrogated some people who were members of the group.
The group was started by a native of Kasargod named Abdul Rashid, using a mobile number he had taken from Afghanistan. He added his acquaintances from Kerala as well to the group.
Rashid had earlier allegedly transported 21 people to Afghanistan, said the report.
"We have examined a few witnesses at Kasargod and extracted messages as part of the investigation into the IS case being probed by our team," NIA officers were quoted as saying.
An NIA officer said that his family members have identified the Afghan number used by him.
It is suspected that the group may have been created to radicalise more people and invite them to join the Islamic group.
"It might be part of dawah work assigned by the people handling them in Afghanistan," the officer said.
There is also a possibility that the group has been formed to gain information on the conditions and morality of life under ISIS after US MOAB attack on the ISIS-held territory in Afghanistan.
The NIA has however decided not to register a case in this matter as it will include this as part of its investigation against the 14 persons who had migrated to Afghanistan from Kasargod.
Wait, we're coming soon: Kerala ISIS fugitive in Afghan to Indian 'faithfuls'
Published May 18, 2017 (Deccan Chronicle)
Fugitive Islamic State (IS) preacher from Kerala, Abdul Rashid Abdullah, who is wanted by the National Investigation Agency (NIA) for leading 23 residents from the state to join the terrorist group in Afghanistan, is now telling his target audience to travel to the war-torn country instead of waging jihad in India.
In an interview to the
Indian Express
, Abdullah justified his stand by saying that it has become impossible to wage 'offensive jihad' in India.
"Today, it is impossible to wage offensive jihad in India. First, we have to consolidate the Caliphate, and then expand its frontiers," he was quoted as saying.
Abdullah said that ISIS in Afghanistan was telling Indian Muslims to 'wait, the Caliphate is coming faster than you think'. He claimed that the aim was for 'the whole world to be ruled by Allah, so he alone can be worshipped, not false gods'.
Calling the Narendra Modi government a 'blessing in disguise' for ISIS, Abdullah said in the interview that this is because while Muslims face 'visible' oppression in some parts of India, in other parts they do not realise they are being oppressed. Abdullah claimed that the Modi government was planning to change the Constitution, and only then, Muslims would truly be awakened and 'start searching for a solution'.
Lashing out at Muslim scholars for 'misleading' the community in India, Abdullah said that while they claim that it is possible for Muslims to practise their faith fully in India - pray, fast, go for hajj etc, they do not mention that there is no scope for 'offensive jihad' in the country.
Stating that Islam seeks to 'fight evil', Abdullah said there was evil all around in the country. He blamed the Hindus for practicing idol worship, and said evils like alcoholism, prostitution and homosexuality were also rife in the country. However, Abdullah bemoaned that no Muslim could raise his hand to stop these.
Claiming that Islam was 'spread by the sword, not by peace', Abdullah said in the interview that the Prophet Mohammad the Caliph Abu Bakr Siddiq, and their followers conquered the world by the sword, not by doing 'dawah'.
Dismissing the claim of Muslim scholars in India that campaigning to improve the conditions of Muslims in India was more important than global jihad, Abdullah said education and jobs were pseudo-achievements, and the respect for other religions was anti-Islamic.
"Indian Muslim leaders fall into three categories", he alleged, "those who do not know the truth, those who deliberately obscure the truth, and those who realise the truth, but only wish to work for it indirectly, fearful of the consequences of speaking out," he added.
Abdullah also claimed that 'any Muslim' supported the September 11, 2001 attacks on the Twin Towers in New York, and called the Caliphate in Afghanistan 'a kind of utopia'. He also said that many Indians, 'far more than you can imagine', were travelling to Afghanistan to fight for ISIS.
Decrying even the fundamentalist Taliban, Abdullah claimed their actions were anti-Islamic because they wanted to implement Sharia only in Afghanistan, not the whole world.
The preacher said that Muslim youth had realised that western philosophy and western ways of life 'rested on shaky foundations' and some had turned to atheism. But he said that the advent of the internet and the knowledge of English had 'opened up a new world' for these youth.
How ISIS lures youth with women, meat, chocolates to recruit in Kerala. An India Today exclusive
May 30, 2017 (India Today, contains video)
In heavily-encrypted audio transmissions from the mountains of Khorasan, he's heard extolling jihad, offering chocolates, housing and women to young Indians.
Kerala's Abdul Rashid Abdulla is believed to have started ISIS recruitment and fundraising operations in the southern state in July 2015. In less than two years, he has risen through the terror ranks as the group's recruiter-in-chief for India based out of Afghanistan.
An India Today investigation has cracked open tightly-guarded tools of communications he has been using to lure young men back home into ISIS fold.
Audio signals accessed exclusively by the network shed new light on the Islamist outfit's India module recruiting new insurgents, mostly from Kerala.
INSIDE THE ISIS RECRUITMENT ROOM
A resident of Kasaragod district, Abdulla had led 21 youth from the state to ISIS dens in Afghanistan. Reports suggest two to three of them died in security ops this year.
But the India handler continues to send audio clips back to Kerala via the highly-secure Telegram messaging app in order to fill his rosters with insurgents from India, the investigation found.
His messages in Malalayam aim to radicalise youth in the name of Islam and a ballyhooed promised caliphate.
Highly-places sources in the country's intelligence establishment have confirmed the authenticity of Abdulla's voice on Telegram audio files obtained by India Today.
ISIS AFGHANISTAN TERROR TAPES
"IS has much more territory than you can imagine in Iraq, Sham, Libya, Khorasan, Africa, etc. These lands are ruled by Abu Bakr al-Baghdadi. He is the leader of all Muslims in the world. Therefore, it is obligatory to give bayat (oath of allegiance) to him," he says in Malayalam in one of the transmissions from his Afghan hideout to Kerala.
In tapes, he repeatedly glorifies ISIS as a "normal country" espousing shariat. "This is just like a country here, just like any other government. We lead a normal life here in Islamic State Khorasan. Everything allowed in sharia is done here and anything not allowed by sharia cannot be done here. There are different departments here under the Islamic State government, such as the Departments of Education, Agriculture, Police, Wealth, Zakat (charity), Finance and Department of Jihad."
Without demanding tough commitments, Abdulla is heard tossing out baits to induce his target audience.
ON OFFER: WOMEN, MEAT & CHOCOLATES
In his messages, he presents housing, meat and even chocolates to future recruits. "There are houses here. All facilities are there including electricity and water in houses. There are individual houses. Most of the houses are owned by the government. There are markets here where everything is available. Everything that is available back in our country is available here also -- chocolates, biscuits, meat, vegetables," Abdulla says.
The ISIS' Afghanistan-based India handler is also heard enticing young men with women, saying guerrillas in the group are encouraged to marry widows of slain militants. "My friend, Murshid, married a virgin woman," he says, "Sajid married a widow with two children and Manjat a widow with one child. So whatever the case is, getting married here is easy."
Indoctrination follows next as he gives his own interpretation of sacred texts and sharia, calling ISIS purely Islamic. In the same vein, he justifies use of brutal violence as part of jihad. "It's a sunnah to do jihad. Islamic state also does jihad - against the mushrikeen, kuffaar, murtadeen and the munafiqeen. Let Allah show the correct path to all and may we all meet in heaven."
According to top security officials, Abdulla took 17 people from Kasargod and four from Palakkad in Kerala to ISIS camps in Afghanistan.
In January, the NIA named him a key motivator for the terror outfit in India. His recruits, security officials say, included professionals doctors, engineers and management experts.
Till March this year, as many as 75 people have been arrested from across India for suspected links with the ISIS.
Of them 21 belonged to Kerala, 16 to Telangana, nine to Karnataka, four to Tamil Nadu, eight to Maharashtra, six to Madhya Pradesh, four to Uttarakhand, three to Uttar Pradesh, two to Rajasthan and one each to Jammu and Kashmir and West Bengal, highly-placed officials told India Today.
Islamic State suspect from Trikaripur killed in Syria
Published:

31st May 2017 05:01 AM

(Indian Express)
KASARGOD: Another IS suspect from Kerala was reportedly killed in Syria, according to text messages sent from Afghanistan.Firoz Khan,24, of Elambachi near Trikaripur was reportedly killed in Syria. His relatives have not yet confirmed the news.

Of the 21 persons who left Kerala to join the Islamic State, only Khan managed to sneak into Syria. The rest of them were holed up at Nangarhar province in Afghanistan, said Abdul Rasheed, the leader of the group, in messages sent to a WhatsApp group he managed. Last May, when the group went missing from their homes in Padna, Trikaripur and Palakkad, there were reports the Mumbai police had taken Khan into custody. The NIA had, however, denied the reports. Last month, Rasheed said in a WhatsApp group 'Message to Kerala' Khan had reached the IS land in Syria. He used forged documents to leave the country as his passports were impounded by authorities.
-----------------------------------------------------------------------------------------------------------------------------
JULY
Martyred in Allah's name: ISIS claims 4 Kerala youth killed in Afghanistan
The Islamic State group, also known as ISIS, has released a video of five young men, claiming that they were killed in Afghanistan while fighting for it. Four of the five youth were from Kerala.
According to reports, intelligence agencies have verified the authenticity of the video. Police have identified photos of Muhammad Murshid, Hafeesudeen, Yahya and Shajeer Abdulla Mangalassery.
Mother seeks return of daughter who went to join IS after conversion; moves court
Jul 12, 2017,
Mother of a Hindu girl, who converted to Islam, married a recent convert from Christianity, and allegedly went to
Afghanistan
along with her husband to join the Islamic State (IS), has sought the intervention of the Kerala High Court.
In a petition filed before the high court, 50-year-old Bindu Sampath of
Attukal
in Thiruvananthapuram is seeking a court order to central and state governments to save her daughter, 27-year-old Fathima alias Nimisha, from the clutches of IS in Afghanistan and to repatriate her to India along with her husband and 10-month-old baby.
READ
-----------------------------------------------------------------------------------------------------------------------------
AUGUST
Kerala Man Who Reportedly Joined ISIS Killed In Air Strike In Afghanistan
Updated: August 01, 2017
A 23-year-old man from Kerala, who was suspected to have joined the terror outfit ISIS last year, was reportedly killed in an air strike in Afghanistan. Police today said his father had received a message through Telegram app two days ago informing him about the death of Marwan Ismail of Thrikkaripur in an undisclosed location in Afghanistan.
They said the message was also sent to social activist BC Abdul Rahman on the same day. The message purportedly sent by one Asfaq Majeed, one of the 21 youths from Kerala who allegedly went missing and joined the ISIS, did not provide more details about Marwan or the place where he was killed. Marwan had been working as a physiotherapist in a gulf nation before joining the terror group last year, police said. He was among the 21 persons from the state, who reportedly went missing after travelling to the Middle East last year and later joined the ISIS in Syria.
-----------------------------------------------------------------------------------------------------------------------------
OCTOBER
Kerala IS recruit 'texts' mother
October 03, 2017 21:57 IST (The Hindu)
A
Kerala
resident, who was said to have been killed during a battle in Afghanistan between Islamic State forces and American troops six months ago, sent a message to his family last week that he was not dead. Bestin Vincent, a resident of Palakkad, who converted to Islam and assumed the identity of Yahya, had moved to Afghanistan with his wife, Merrin alias Mariam, and 19 others to live in the IS-controlled territory in the Khorasan province of Afghanistan last year.
Both Vincent and Merrin converted after their marriage. A senior government official said Vincent/Yahya had messaged his mother last week that he was alive.
CONTINUE READING
-----------------------------------------------------------------------------------------------------------------------------
NOVEMBER
Kerala: ISIS audio clips warn of attack on Thrissur Kumbh Mela, probe on
Published Nov 15, 2017, 1:15 am IST (Deccan Chronicle)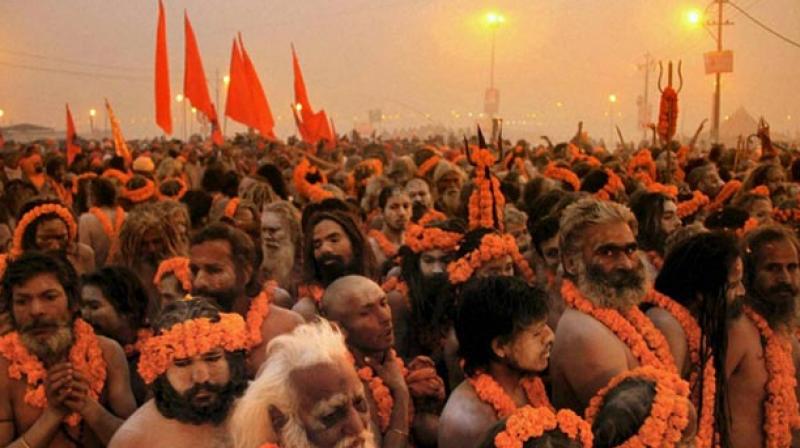 Thiruvananthapuram:
The state police and intelligence agencies are on their toes as a series of communally sensitive audio clips in Malayalam under the label of the so-called Islamic State is spreading rampantly through Whatsapp.
The state police intelligence wing had already alerted central agencies like the National Investigation Agency, and efforts are on to trace the exact source of the audio clips that call for fighting for the IS.
The audio clip that lasts more than 2 minutes in length, calls for the annihilation of all religions except Islam. It also urges the targeted audience to use their intelligence to wipe of Democracy, Hinduism and Christianity. It is not clear when the clip was posted in the group, but sources say it was after the month of June.
"Keep waging war against the kafirs till it becomes dar-ul-Islam. You have kafir Hindus who pray to cows, snakes and even phallus. Shiva lingam is nothing but the private part of Shiva. Women and children worship it. Why do you let them live in peace? Allah says, finish them, kill them, and annihilate them. Democracy, Hinduism, Christianity has to be wiped off, only Allahs writ should run large. Till they are annihilated you should keep fighting. You are intelligent people, many of you have done higher education. You should know how to implement it. Use your intelligence to kill Kaafirs, kill them, poison their food, and poison all their water," the voice says in Malayalam.
The audio clip also hailed the 2017 Las Vegas shooting, calling rock concert avenues 'the palace of Satan'. It also urges the targeted audience to derail trains and use knifes in the name of Islam.
"You could use trucks. Ram vehicles right into them. It happens in other parts of the world also…IS Mujahideen keeps doing it. And if you have access to weapons, Kalashnikovs or even a pistol, look what that guy at Las vegas did, one of our supporters went to a rock concert, the palace of Satan, he finished them off… Hail him….You could also do that…or you could derail a train, let the Kaafirs die. You can even use a knife to cause as much damage." The audio clip also said that since India is ruled by Hindus, Jihad should be waged against the country.
"There are organizations which claim to represent Muslims. They are fake ones, once in a while they issue anti Hindu statement or maximum they manage to convert one Hindu into Islam. One must understand that we can never have our way in India, because India is ruled by Hindus. That is why you should wage Jihadi to help ourselves."
-----------------------------------------------------------------------------------------------------------------------------
DECEMBER
The Missing 21 From Kerala: NIA Releases Sketches of ISIS Recruits
Updated:December 27, 2017 (News18)
KOZHIKODE: Kozhikode: National Investigation Agency (NIA) has released the photographs of the Islamic State cadres from Kasaragod and Palakkad districts who have joined the terrorist organization in Afghanistan. The names and photos of the Malayalis have appeared in the 'most wanted' list.
The group had travelled outside the country broken into small groups. The first two people left on a Bengaluru-Kuwait flight; the second batch had three people, who left on May 31 on the Mumbai-Muscat flight. Batch number three had three individuals who left on June 2 aboard a Mumbai-Dubai flight, while three others left the following day on a Hyderabad-Muscat flight. June 5 saw three people leave on a Mumbai-Dubai flight, and the sixth batch on June 16 had two people on a Bengaluru-Muscat flight.
The same route was taken by the next group of two people on June 19, while the last person left on a Mumbai-Abu Dhabi flight on July 5.
NIA sources also told News18 that at least 19 of the 21 people had moved from Tehran and were suspected to have crossed the border to Afghanistan.