This post details the trial of the Yazdani ISIS cell that was arrested from Hyderabad in June 2016. To read the latest news about the Hyderabad cell, visit this link.
Hyderabad ISIS module inspired by Zakir Naik, says NIA
NIA files charge sheet against 8 in Hyderabad ISIS module case
Published: December 22, 2016 10:09 pm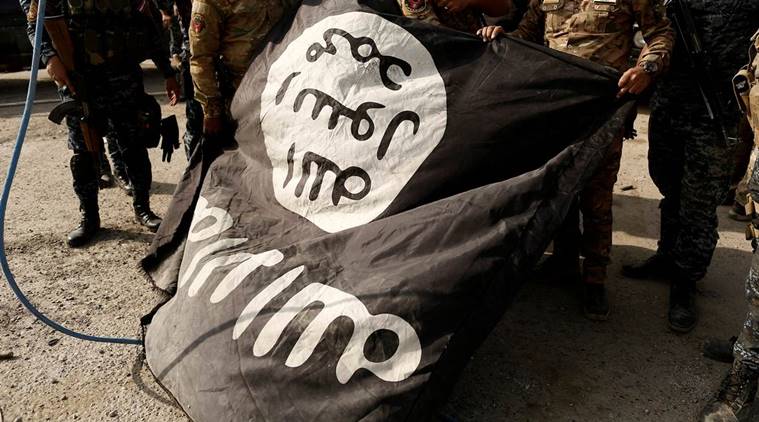 Eight persons were on Thursday named by NIA in a charge sheet for allegedly attempting to carry out a terror strike by using explosive devices similar to those used by ISIS cadres during last year's Paris attacks. The charge sheet was filed before a special NIA court at Hyderabad under various sections of IPC, Explosive Substances Act, Arms Act and Unlawful Activities (Prevention) Act.
They have been charged with entering into a criminal conspiracy to wage war against the country by collecting weapons and explosive materials to target public places including religious sites and sensitive government buildings in various parts of the country. Those named in the charge sheet are Abdullah Bin Ahmed Al Amoodi alias Fahad, Mohammed Ibrahim Yazdani alias Abu Abdurrahman, Habeeb Mohammed alias Abu Shaibah, Mohammed Ilyas Yazdani alias Abu Mansoor, Muzaffar Hussain Rizwan alias Abulhasan, Yasir Naimathullah alias Naimath Ullah Hussaini, Mohd Ataullah Rahman alias Ghouse and Abdul Raoof alias Mohammed Almashrifi.
The NIA said that during raids at various premises on June 29, several electronic gadgets, mobile phones, hard discs, semi-automatic pistols, air rifle, pellets, target boards, explosive precursor chemicals were recovered. These can be used for preparation of triacetone triperoxide (TATP), an explosive material used in the Paris attacks. As many as 129 people were killed on November 13, 2015 when ISIS cadres used TATP substances while carrying out terror strikes at three places in Paris. TATP is easy to make, easy to set off, and susceptible to accidental detonations.
The NIA also found urea, nitrate explosive and equipment for manufacturing like pet jars with liquids, capacitor, gas stove with cylinder, weighing balance, nails, knives, quartz alarm time pieces, bundle of wire. Forensic analysis of electronic gadgets seized from the accused showed online radicalisation of the accused by watching videos of ISIS, discourses and lectures of radical Islamic preachers, such as Anwar Awlaki, Abdu Sami Qasmi, Meraj Rabbani, Tausif ur Rehman, Jerjees Ansari and Zakir Naik, the agency said.
Investigation has established that the members downloaded and followed ISIS propaganda videos, ISIS magazine – "Dabiq", which convinced them that ISIS was fighting for the rights of the Sunni Muslims, it said. The group associated with Islamic State of Iraq and Syria (the ISIS) and pledged their allegiance through the Bay'ah to Abu Bakr al-Baghdadi, the self-proclaimed Caliph of the Islamic State and formed a group called Jhund ul Khilafa Fi Bilad Al Hind (Army of the Caliph from the South India), it further said.
When the Army of the Caliph was almost set up in South India
New Delhi, Dec 25: The National Investigation in its chargesheet filed against 8 persons says that an attempt was being made to establish the Army of the Caliph from South India or the Jhund ul Khilafa Fi Bilad Al Hind.
The NIA had arrested 8 persons from Hyderabad for their alleged links with the
ISIS
. During the raid that was conducted the NIA stumbled upon material which suggested that the 8 persons were in touch with handlers from Syria. Their role was to establish the ISIS Caliphate in South India, the NIA also says.
The NIA during the raids conducted on June 29 found electronic gadgets, mobile phones, hard discs, semi-automatic pistols, air rifles, pellets, target boards, explosive precursor chemicals, urea nitrate explosive and equipments, a capacitor, knives and bundles of wire.
NIA officials also say that investigations found that these 8 persons were trying to set up a large army of people in South India. They were convinced about the cause of the ISIS and hence decided to all out and set up a very strong module for the group. Their focus was on South India only, the NIA also says.
Jordanian national radicalised Hyderabad's ISIS suspect: NIA
25 Dec 2016-06:35am
A deceased Jordanian man has emerged as the one behind "initiating" a Hyderabadi man into the fold of the jihadist ideology, an act which culminated in the formation of an Islamic State (IS)-affiliated group in India. The terrorist group later named itself the Jhund Ul Khalifa al-Hind Fl Bilad or Army of the Caliph in south India.
A charge sheet filed by the National Investigation Agency (NIA) on Saturday stated that it was between June 2013 and 2014 that Mohammed Ibrahim Yazdani, 30, met Jordanian national who went by the name Suhayb Al Abudi. Ibrahim was then working at the Riyadh-based Bazee Trading Company and made friends with the Jordanian, who was also working in the same company.
According to the NIA, Abudi showed Ibrahim several videos of Syrian forces allegedly committing atrocities on Sunni Muslims. Through this, he convinced him that Syrian President Bashar Al Assad was the man responsible for these atrocities.
"He (Abudi) also argued that Bashar Al Assad, the Syrian President, was committing atrocities on Sunni Muslims in Syria and the lS was waging jihad against the Assad government. lbrahim Yazdani visited India in June, 2014 for two months, but he kept communicating with Suhayb Al Abudi on Facebook," reads the NIA document accessed by DNA.
According to the probe agency, when IS declared itself a Caliphate under Abu Bakr al-Baghdadi in June 2014, and seized large areas in Syria and Iraq, Ibrahim was allegedly highly influenced by the declaration of the Caliphate and had come to a firm belief that it was every Muslim's bounden duty to perform Hijrah, i.e. migration to the Caliphate.
However, his plans hit a roadblock soon when he got to know that Abudi had been killed in Syria in September 2014. The news was broken to him by an individual named Sulaiman who identified himself as the brother of Abudi.
Subsequently, after months of following the changing geopolitical situation in Iraq and Syria on Twitter and other social media websites, Ibrahim managed to get in touch with a person who identified himself as, "Abu lssa Al Amriki," in January 2015.
It was Amriki who became the main handler of the Hyderabad module of IS and guided the group through Ibrahim. He advised the 30-year-old not to visit Syria or Iraq and instead directed that, "he should carry on the work of Allah from India itself."
Investigators have referred to the Hyderabad module as the most dangerous in India, citing factors like covert methods employed to recruit the youth, the way in which the members of the terrorist module communicated with each other, and the expertise of the IS handler and those employed to collect arms and ammunition.
Everything seemed to go as per plan as Ibrahim managed to recruit several youth from Hyderabad including his own younger brother — till June 29, the date when the NIA finally busted the module. But investigators say that interest in the Hyderabad module was on the wane with some youth, allegedly recruited by Ibrahim — and whose identities are protected by the NIA— left the group right before an alleged terror attack could have been carried. The chargesheet lists out four Protected Witnesses PW's, who were recruited by Ibrahim and other members of the Hyderabad module at some point of time.
In its charge sheet, NIA mentions a youth who was recruited and, "then grew fearful as he did not approve of the plans for the terrorist acts by the group. He then stage-managed his exit from the group by disappearing on the 15 May, 2016, by spreading a message that he was picked up by the police/NlA and questioned about his activities." This was more than a month before the group was busted.
NIA has claimed that even after his exit, the group continued to make plans of carrying terror attacks, but this was after disbanding for a period of five days.
Starting May 29, it was business as usual, with the members of the module given different duties, including collecting weapons, planning escape routes, collecting money, and so on. On June 19, three years after Ibrahim was initiated into the jihadist fold, held a meeting during an iftar at the home of another accused named Habeeb Mohammad.
It was on this day that Ibrahim, who himself was radicalized by Jordanian nationals, would try to do the same to two other individuals or protected witnesses. Ten days later, however the whole operation came at a staggering halt with NIA making the first arrest.