Islamic State group flourishes and recruits in Pakistan
Published
Nov 13, 2016, 12:00 pm IST
Islamabad
: The Islamic State group is increasing its presence in Pakistan, recruiting Uzbek militants, attracting disgruntled Taliban fighters and partnering with one of Pakistan's most violent sectarian groups, according to police officers, Taliban officials and analysts.
Its latest atrocity was an attack Saturday on a Sufi shrine in southwestern Pakistan that killed at least 50 people and wounded 100 others. The group said in a statement that a suicide bomber attacked the shrine with the intent of killing Shiite Muslims and issued a picture of the attacker.
When IS circulated a photograph of one of the attackers in last month's deadly assault on a police academy in southwestern Baluchistan province, two Taliban officials told The Associated Press that the attacker was an Uzbek, most likely a member of the Islamic Movement of Uzbekistan. More than 60 people, most of them police recruits, were killed in that Oct. 26 attack when three assailants battled security forces for hours before being killed or detonating their suicide vests.
The Taliban officials, both of whom are familiar with the IMU, spoke on condition of anonymity because their leadership has banned them from talking to the media.
Authorities initially said the police academy attack was orchestrated by militants hiding out in Afghanistan and blamed Pakistan's virulently anti-Shiite group, Lashkar-e-Jhangvi. But IS later claimed responsibility and Lashkar-e-Jhangvi spokesman Ali Bin Sufyan said they partnered with IS to carry out the assault.
In Afghanistan and Pakistan, the extremist group has adopted the name the Islamic State in Khorasan - a reference to an ancient geographical region that encompassed a vast swath of territory stretching from Turkmenistan through Iran and Afghanistan.
IS in Khorasan has set up its base in Afghanistan's eastern Nangarhar province, and while it has pledged allegiance to the Islamic State group in Syria and Iraq, it remains unclear whether there are direct operational or financial links between the two.
According to police, Afghan officials and IS media outlets, the majority of Islamic State fighters in Afghanistan are Pakistani nationals, mostly from the tribal regions. Disgruntled Taliban fighters from Pakistan and Afghanistan have joined along with foreign fighters, mainly from central Asia. The group's leader until his death in July in a drone strike was Hafiz Saeed Khan, a former Pakistani Taliban commander. IS has never acknowledged Khan's death, which was confirmed by both the Afghan and U.S. militaries.
Counterterrorism officials in Pakistan say that IS has begun reaching out to local militants through its rich social media presence.
"They are inspiring the like-minded youth in Pakistan through their strong social media propaganda," said Junaid Sheikh, a senior counterterrorism commander in the southern city of Karachi.
"There is evidence that militants of other organizations like Lashkar-e-Jhangvi, Al-Qaeda in the Subcontinent and other Sunni extremist organizations switched their ideology toward Daesh and acted like their activists," he said, using an Arabic acronym for IS. The recruitment of Uzbek militants is particularly worrisome and a "significant threat to our national security," he added.
He said Uzbek fighters have carried out numerous major attacks in Pakistan, including a 2011 attack on a naval base and a 2014 attack on the Karachi Airport. Local militant groups provided the intelligence to carry out the attacks, he said.
A resident of Afghanistan's Nangarhar province who did not want to be identified for fear of retribution said he spoke with two Iranian Islamic State members late last year. Unlike the Pakistani and Afghan insurgents, the resident, who fled to Pakistan after his home was overrun by IS fighters, said the foreign fighters were friendly and engaged with local residents. One Iranian fighter said he was recruited for his computer skills, the resident said.
Previously, Uzbek insurgents normally allied with the Pakistani and Afghan branches of the Taliban, having sworn allegiance to Taliban founder Mullah Mohammed Omar. However, many Uzbek fighters split from the Taliban and declared allegiance to IS last year after it was revealed that Taliban officials had hidden the fact that Mullah Omar had died two years earlier.
A senior police official in Pakistan's eastern Punjab province, where several militant groups are headquartered, said the IS group is firmly entrenched in Pakistan and its roots are growing stronger as it aligns with Pakistan's Sunni Muslim extremist groups like Lashkar-e-Jhangvi. The police official spoke on condition of anonymity because he was not authorized to speak to the media. The official also said that Lashkar-e-Jhangvi had largely relocated from Punjab to Baluchistan province in the face of a major military campaign.
"Pakistani Taliban factions that have sparred with the parent Pakistani Taliban have tended to express public support for ISIS," said Michael Kugelman, senior associate for South Asia at the U.S.-based Wilson Center. "I could certainly envision collusions materializing between disaffected Pakistani Taliban fighters now aligned with ISIS, and Uzbek militants with preexisting ties to the Pakistani Taliban. Either way, at the end of the day, all of these terrorists are cut from the same cloth ideologically and so we should never rule out operational partnerships."
'Families ripped apart': Pakistan shrine blast survivors recall horror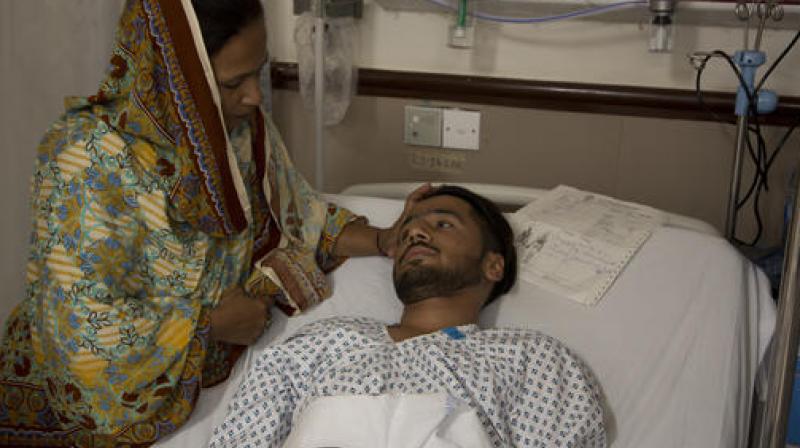 Khuzdar, Pakistan:
Survivors of a massive bomb attack on a shrine in southwest Pakistan that killed dozens spoke of their horror on Sunday after families were ripped apart in a strike showing the expanding reach of the ISIS group.
The blast, later confirmed to be the work of a teenage suicide bomber, hit male and female worshippers as they were dancing and chanting at the shrine of the Sufi saint Shah Noorani, some 750 kilometres (460 miles) south of Quetta, the provincial capital of restive Balochistan province.
Mohammad Shehzad, a 25-year-old who had travelled in a group of 120 pilgrims, said: "The pressure of the blast was so strong, people were blown away. Everyone was running, shouting and searching for families.
"Children were looking for the mothers and fathers. People looking for brothers and sisters but no one was able to listen to their cries."
The attack killed 52 and wounded more than 105 and was the fourth deadliest in Pakistan this year. Stricken survivors swathed themselves in blankets and braved the cold under open skies overnight as they made their way home. Many had travelled hundreds of kilometres to pay their respects to the saint and seek blessings, in line with their belief in Sufism, a mystic Islamic order that worships through music and is viewed as heretical by hardline militant groups.
Unlike at mosques in Pakistan, which often limit access to women, in Sufism both genders are permitted to take part in many rituals, though they are sometimes separated by partition walls.
Witnesses said problems were compounded by the fact that it took several hours for rescue services to reach the remote shrine, located on a hilltop in the Khuzdar district of Balochistan several kilometres away from surrounding villages, with poor mobile network coverage.
Hafeez Ali, a 28-year-old auto mechanic, said: "We had left the area only five minutes before the attack to go and cook our dinner. From our viewpoint on a hill, we could see three whirling dervishes dancing to a drummer, as hundreds formed a circle around them.
Then came the explosion.
"We realised that it was a bomb blast. Two of us rushed down and saw the bodies scattered all around -- mostly children. We also saw the drum beater dead and his exploded drum was lying nearby."
ISIS growth
Sarfraz Bugti, the province's home minister, said the blast was carried out by a teenage suicide bomber. "We have found body parts of the bomber which place his age at around 16 to 18," he said.
The announcement lent credence to a claim of responsiblity by the Islamic State group, which released a photo overnight of the purported attacker -- a dark-skinned youth dressed in white tunic with a green backpack -- via its affiliated Amaq news agency.
It was the second major assault claimed by the Middle-East based outfit in as many months, following a raid on a police academy in the same province that killed 61 people.
Militant sources in the province have told AFP that ISIS, which had earlier struggled to gain a foothold in Pakistan because of competition from already established groups, has now forged alliances with local affiliates including the anti-Shiite Lashkar-e-Jhangvi group.
Pakistan has been battling a homegrown Islamist insurgency since shortly after the US-led invasion of Afghanistan in 2001 forced the remnants of the Taliban and Al-Qaeda to flee across the border.
Overall levels of violence have dropped in recent years following major military operations in the tribal areas mainly targeting the Pakistani Taliban, but it now appears that new threats are emerging.
Amir Rana, an expert on militancy, said: "It seems that IS has found an ally in Pakistan, which is probably the Al-Alami faction Lashkar-e-Jhangvi. The group is organising the scattered factions of sectarian outfits and Taliban factions, across the country, but it is much organised in Balochistan and Sindh."
As battle in Mosul unfolds, ISIS looks to Pakistan for fresh recruits