For the latest on Mohammed Mosiruddin, visit
#West Bengal 002
.
Chargesheet Against ISIS Suspect Says He Planned Attack On Kolkata's Mother House
Updated: December 25, 2016 16:30 IST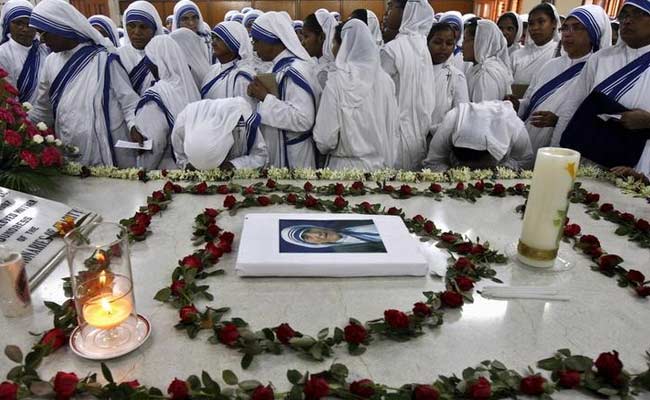 Kolkata:
A chargesheet has been filed against Mohammad Musa, a suspected ISIS man who had allegedly been tasked with killing foreigners visiting Kolkata. The chargesheet reveals that he was drawing up plans to attack Missionaries of Charity Headquarters in Kolkata since many foreigners congregate there.

Investigators say that he had intended to carry out lone wolf attack, as in the Orlando in the US and France's Nice.
Mother House is the resting place of Mother Teresa, who was canonised on September 4. Mother Teresa worked throughout her life from the premises and her tomb draws many international visitors.
Officers of the National Investigation agency said Musa had close contact with Bangladesh-based Jamat Ul Mujahideen Bangladesh or JMB, which is said to be responsible for the attack on Dhaka's Holey Artisan cafe that killed 20 people, including an Indian student, in July this year. Investigators from Bangladesh have already interrogated him about his links to Abu Suleman, the mastermind of the Dhaka bakery attack. He had earlier revealed that Abu Suleman had visited Kolkata.
Musa had been also been interrogated recently by the Federal Bureau of Investigation from the US regarding his links with the ISIS. A resident of Bengal's Birbhum district, Musa was arrested in July from the Burdwan railway station in July. Officials said he had been radicalised through social media. The NIA is still trying to identify his ISIS handler, who, they say, had instructed him to carry out attacks on foreigners, primarily US and British citizens, as revenge for the war in Syria.
The IS had drawn up a list of various tourist locations with a heavy presence of foreign tourists. While their counterparts in South India had plotted an attack at Kodaikanal, Musa had wanted to strike at the pristine Dal Lake in Srinagar.
According to investigations conducted by the NIA, Musa had visited Srinagar in May 2016. While he was not able to carry out the attack, he did manage to take part in a congregation at the Jama Masjid in Srinagar. At the venue, he waved the IS flag, he confessed during questioning.
The NIA has also learnt that Musa wanted to announce the arrival of the Bengal Caliphate of the ISIS in a big way. He had zeroed in on one very influential family in West Bengal.
He planned on robbing, raping and beheading the members of this family. He felt that such an incident would have spread panic and this incident would have announced the arrival of the IS in India.
Can ISIS Strike India From East? Jamaat Terrorist Revealed Plans, Say Sources
Updated: January 02, 2017 23:47 IST
Kolkata: The threat to India from ISIS may well come from the eastern border. The Jamaat-Ul-Mujahideen Bangladesh or JMB, a terror group which was behind the Dhaka Bakery Attack and aims to establish an Islamic caliphate in the country, has been coordinating with the ISIS to create terror in India, sources said.

The possibility of an ISIS attack from the east is being seriously considered after the interrogation of Mohammad Mosiuddin alias Musa, an alleged JMB operative who was arrested in July last year from Burdwan in West Bengal.

Mosiuddin's interrogation has thrown up chilling revelations that include terror plans that go beyond targeting foreigners at Kolkata's Mother House and lone wolf attacks on foreign tourists in Srinagar. The group aims to replicate in South Asia what the ISIS has done in the middle-east, sources said.
Mosiuddin's close links to the mastermind of the Dhaka Bakery terror attack and the ISIS could open a new front.
"They want to first capture Bangladesh and set up an Islamist state there. Then they want to expand their Islamist state in the neighborhood. Something like what Taliban thought about, what Al-Qaeda thought about or what the ISIS is thinking about," Professor N Manoharan, an Associate Professor at the Department of International Studies and History at Bengaluru's Christ University, told NDTV. Sources say the JMB's larger plans include publicising the presence of the ISIS in India and recruit for the group. It also wants to coordinate with Pakistan-based groups like Lashkar e Taiba and Jaish e Mujahideen and create terror in eastern and southern India, where Mosiuddin was based, sources say.
Another aim of the group is to help spread Salafist Islam in states like Bihar and Bengal. "They want to start with Bangladesh and they want to expand this Darool Islam to the wider region and link up with other groups," Professor N Manoharan added. The common threat from terrorism was discussed by Bangladesh Prime Minister Sheikh Hasina and Prime Minister Modi earlier this year, when Sheikh Hasina visited Delhi. The two leaders decided to tackle the menace together.
"This is a decision which is taken at the highest level. We are trying to translate the vision of the Prime Ministers of both countries. We are getting huge support from the Bangladesh side," said PSR Anjaneyulu, a senior officer of Border Security Force.
Revealed: What the FBI found on Kolkata IS operative
Bengaluru, Jan 1: The visit by a team of the Federal Bureau of Investigation to Kolkata to question an Islamic State operative was a crucial one. Masiuddin alias Musa who was chargesheeted by the National Investigation Agency (NIA) was also questioned extensively by the Federal Bureau of Investigation.
For the
FBI
the questioning was extremely important as they found that Musa's handler Shafi Armar, a resident of Bhatkal now with the IS in Syria, was planning on targeting Americans. The FBI learnt from the chat transcripts that Armar had drawn up a list of American targets not just in India but in other parts of the world as well.
The FBI learnt that Armar was also in touch with several radicalised American youth. He was trying to rope in Americans into the outfit and build up a strong network, the FBI also learnt. An Indian official who is in the know of what transpired during the FBI questioning of Musa informed OneIndia that information regarding various targets drawn up the IS was gathered.
The FBI team comprising 7 members learnt that several targets both in India as well as abroad were under the radar of Armar. The officer informed that as per the assessment given to them by the FBI, Musa was a potential suicide bomber. He is highly motivated and could have caused havoc had he not been arrested, the FBI said in its assessment.
Further it was also learnt that the IS was planning a series of lone wolf attacks against Americans. It may be recalled that Musa during his interrogation had told the NIA that he had planned on targeting Americans and Russians both at the Mother Teresa centre in Kolkata and Dal Lake in Srinagar.
In fact he had made two attempts to strike in Kolkata. He had planned on carrying out a knife attack, investigations have also shown.
Why West Bengal needs to be careful: 10,000 JMB operatives are with IS
The recent interrogation of Musa, an Islamic State-inspired operative from Kolkata reveals that at least 10,000 members of the dreaded
Bangladesh
outfit, Jamaat-ul-Mujahideen had joined the terror organisation. This is a worrying sign for India, since the
JMB
has a large number of its operatives in
West Bengal
. Amid the allegations of appeasement against the West Bengal government, Indian security agencies say that if this problem is not nipped in the bud, it could spin out of control.
The blast at Burdhwan was a classic example of how members of the JMB had a field day in West Bengal preparing bomb until an accidental blast exposed the entire module.
Musa is heard telling his handler Shafi Armar that at least 10,000 operatives of the JMB, Bangladesh have joined the Islamic State. He further tells Armar that with such a large number of members, it is time to shun the lone-wolf strategy and instead plan a huge coordinated attack.
He then goes on to appraise Armar about the
Kashmir
battle. He says that he had visited the Dal Lake in Srinagar and has an attacked planned out. He adds that there are several fighters in Kashmir, but their ideologies are impure. He says that the real fighter is the one who supports and imposes the Shariat.
He goes on to say that the RSS, VHP and the BJP leaders must be targetted.
"A large majority of the Indian population is close to them and hence carrying out attacks on the leaders makes sense," he emphasises.
Indian IS operatives' new strategy: 'Stab and run'
During the interrogation of Musa alias Masiuddin, the
Islamic State
inspired operative, a very interesting conversation he had with his handler cropped up. An officer with the National Investigation Agency tells OneIndia that they were speaking about an operation known as 'stab and escape.' The conversation between Musa and his handler Shafi Armar reveals how they were sharing tactics between each other on stabbing non-Muslims and escaping from the spot. The stab and escape tactic has been discussed on several forums that are sympathetic towards the IS.
Officials explain this is one of the easier methods of carrying out a terror strike. "When we arrested Musa, he was in possession of a large knife and when questioned about it, he revealed what was discussed with his handler," says the
NIA
source. In another conversation, the duo is heard discussing about ordering pepper spray online. Armar goes on to explain that the pepper spray would come in handy when a stab and escape operation is being carried out. The knife and the pepper spray in the run up to an attack would not grab the attention of the security agencies. Hence, it becomes easier to carry out the attack and remain undetected, Armar further explains to Musa.