Jakarta Attacks - Jan 2016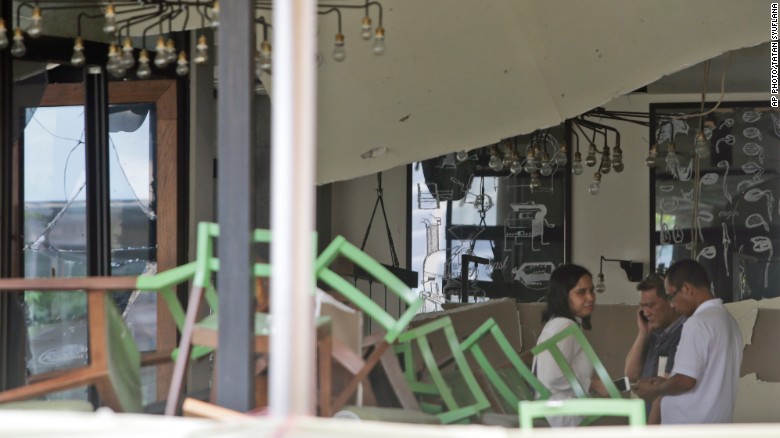 Jakarta, Indonesia (CNN)A militant who police accuse of plotting Thursday's deadly terror attack in Jakarta instructed his cells in Indonesia to launch the attack, according to Jakarta Police Chief Tito Karnavian.
Karnavian spoke to CNN one day after the violence erupted midday, killing at least two, wounding 24 and raising alarm about terrorism in the world's most populous Muslim country.
ISIS
claimed responsibility for the attack in an official statement posted online by the terror organization.
"We have been informed by our intelligence that an individual named Bahrun Naim, based on the communications ... instructed his cells in Indonesia to mount an attack in Indonesia," Karnavian said.
Naim, who police believe is living in Syria, was apprehended by Indonesian authorities in 2010 for illegal possession of ammunition and was brought to justice, the police chief said. Naim was sentenced to at least 2½ years in prison.
The militant then left Indonesia, and is in Raqqa, "as part of the high ranks of ISIS," Karnavian said.
"He created cells or a branch of ISIS named Katibah al Nusantara. His vision is to join, to unite all ISIS supporting elements in Southeast Asia, including Indonesia, Malaysia and the Philippines," the chief said.
Police spokesman Anton Charliyan had said earlier that Naim is in Syria but sent money back home to Indonesia to finance the attack.
Promoting extremism
A blog containing ISIS teachings likely belongs to Naim, according to an Indonesian anti-terror source.
The blog contains posts written in the Bahasa Indonesia language on how to conduct terror attacks, lessons learned from the Paris attacks, how to avoid intelligence surveillance, how to make homemade pistols and how to conduct guerrilla warfare in cities, among others.
Authorities in Indonesia have been monitoring the blog for two years, the anti-terror source said. He added it's "highly possible" the blog is run by Naim himself or by people posting on his behalf.
Karnavian said the difference between ISIS and terror groups formerly active in Indonesia, such as Jemaah Islamiyah and al Qaeda, is that the former is more dangerous because its ideology allows it to kill Muslims in a way that previous groups did not.
Eerie quiet
As the sun broke the day after the attack, corrugated iron covered the shattered windows of the Starbucks that had been the scene of so much destruction. Wreaths and tributes, expressing condolences to the victims and defiance against those who attacked, were stacked against the nearby police outpost.
Many bear the slogan
#KamiTidakTakut
, which translates to "We are not afraid," to express pride and conviction to stand up, rather than bow down, to terrorism.
The small number of people laying tributes outside the coffee shop and police outpost told CNN they had rarely seen the bustling, 24-hour street so quiet.
Boni Marlen, a 22-year-old studying law, rode up to the scene on a mountain bike late Thursday night and shook his head.

"I want to be near the people who died to pray for them," he said, repeating the slogan, "we're not afraid." He said the extremists counted as only a small group. "We must fight them."
Many went on
Facebook and Twitter
to express their pride and conviction to stand up, rather than bow down, to terrorism.
"We are Indonesians & we never affraid to (sic) terrorist," one man wrote. "We always fight anything that wanna take us down."
This sentiment was echoed by President Joko Widodo.
"We should not be afraid and defeated by acts of terror like this," he said.
It began around 10:55 a.m. Thursday (10:55 p.m. ET Wednesday) with a suicide explosion near a Starbucks on Thamrin Street, an entertainment and shopping district with various Western chain restaurants and stores.
Malaysia warns of bid to make SE-Asia new base for ISIS
Jakarta:
An Indonesian militant was jailed for six years on Monday over a series of failed plots hatched under the guidance of an Indonesian jihadist fighting for the Islamic State group in Syria.
Arif Hidayatullah plotted to assassinate Jakarta governor Basuki Tjahaja Purnama, an ethnic Chinese Christian, and bomb a Jewish community centre and a mosque used by members of the Muslim Shia minority, a court heard.
The 31-year-old, who was detained last December on the outskirts of Jakarta, did not carry out any of his plans because he was not confident his homemade bombs were ready.
The Jakarta court heard he concocted the plots under the wing of Bahrun Naim, a leading Indonesian militant fighting with ISIS, who has been linked to several botched assaults in his homeland, from a plot to fire a rocket at Singapore to a suicide attack on a police station.
There has been an upsurge of violence and attempted attacks in the world's most populous Muslim-majority country over the past year due to the growing influence of ISIS.
Hidayatullah was found guilty of possessing explosive materials intended for use in terror attacks.
"The defendant is declared to be convincingly guilty of terrorism offences and is sentenced to six years in prison," Judge Siti Jamzanah told the court.
He also helped five Indonesians travel to Syria and helped a Uighur radical enter Indonesia, the court heard. The Uighur was later arrested outside Jakarta as he prepared to carry out a suicide bombing.
No place in Indonesia for ISIS: Joko Widodo
Bogor:
Islamic State (ISIS) has no place in Indonesia, President Joko Widodo has said, amid growing concern that south-east Asia was becoming a fertile ground for the group.
"Indonesia opposes all forms of extremism and violence," Mr Widodo said, ahead of his state visit to India, beginning on Monday.
"The ISIS has no place in Indonesia," he said, adding that his country was taking a comprehensive approach in fighting extremism through hard power by law enforcement and legislation; as well as soft power by taking a religious and cultural approach.
"Indonesia will always cooperate with all countries to fight terrorism," he said, adding that such cooperation would be through the exchange of information as well as intelligence exchanges and cooperation.
Authorities: IS Fighter in Syria Plots Terror in Indonesia
Updated: December 16, 2016 12:59 PM
WASHINGTON / JAKARTA —
One of Indonesia's most wanted men is a computer geek skilled at bomb-making who joined the Islamic State in Syria, where police say he now directs terror attacks against his native land.
Indonesian authorities say they have linked Bahrun Naim to a string of terror attacks and plots to destabilize his homeland. He reportedly directs IS operations in Indonesia through the Telegram app favored by IS in Raqqa, which is the militant group's de facto capital in Syria, the officials said.
On Friday, Indonesia's anti-terror police said they arrested 11 suspected terrorists linked to Naim's network. Police said the group had planned to attack the presidential palace in Jakarta.
Naim, 33, was the alleged ringleader of a terror plot in Jakarta that was foiled over the weekend. Authorities said a female would-be suicide bomber and a suspected IS loyalist were arrested while planning to attack high-profile targets in the nation's capital.
"They learned how to assemble a bomb from Bahrun Naim," police commissioner Awi Setiyono told reporters.
Using social media channels and contacts in Indonesia, Naim has been actively recruiting people from Syria for terror activities and funds terror plots in the country, Indonesian police said.
Coordinating activities
Authorities said they thought Naim was the leading coordinator for IS activities in Indonesia.
"Bahrun Naim continuously tries to appeal to people in Indonesia, as well as in countries like Malaysia and Singapore, to carry out terror activities for IS," Sidney Jones, director of Institute for Policy Analysis of Conflict, a Jakarta-based research group, told VOA's Indonesian service.
Naim has been tied to a number of attacks and failed terror plots in Indonesia this year, including a July suicide bombing in the Javanese city of Solo, police said.
He was identified as the mastermind of coordinated bomb and gun attacks in central Jakarta in January that killed eight people, including the four attackers. IS claimed responsibility for the incidents.
Naim was also linked to a suspected militant arrested during a raid last month. Police said that during the raid, they found enough chemicals to build a bomb twice as powerful as the one used in the Bali bombing in 2002, which killed 202 people, according to Reuters.
"On the orders of Bahrun Naim, they formed small cells and assembled bombs with other suspected militants," police commissioner Setiyono told reporters.
Naim is known to be an expert in explosives, analyst Jones said.
"He has written some sort of a guidebook containing instructions on how to make bombs," she added.
Radical groups
According to media accounts, Naim was born in Central Java's Pekalongan city in 1983. He grew up in Solo, a city where radical groups have had a longtime presence, and graduated with a degree in computer technology in 2005.
Naim was arrested on suspicion of involvement in a terrorism network in November 2010, and he was convicted in June 2011 of illegal possession of ammunition. The court, however, found insufficient evidence to pursue the terror charges, Indonesian authorities said.
He fled the country in early 2015. Authorities tracked him to Syria, where they say he has continued strengthening his terrorist network in Indonesia.
Naim has used Telegram message channels to communicate with his network in Indonesia and has taught followers how to assemble explosives, Setiyono said.
"Bahrun communicates also through Twitter and sends messages to people, not only in Indonesia but also in several other countries," Wawan Purwanto, an intelligence analyst at Indonesia's anti-terror agency, told VOA.
"He [Naim] has a huge influence over his network. He brings new inspiration to his followers through social media," Purwanto said. "In fact, people are influenced by what he posts on social media."
Blog on terrorist attacks
According to the BBC, Naim reportedly maintained a blog, portraying himself as a "freelance journalist." He has published posts on how to carry out terrorist attacks, make bombs and dodge surveillance.
The blog also praised several attacks carried out by IS and its affiliates, the BBC reported. Attempts by VOA to access the blog found that it had been blocked.
Islamic State remains a threat to Indonesia, the world's largest Muslim country, authorities said. As many as 384 Indonesians have joined IS, according to Indonesia's counterterrorism agency. Most of those have traveled to Syria and Iraq.
Indonesian authorities last month said they were investigating the reported death in Iraq of a prominent IS commander from Indonesia, who was defending the militant stronghold of Mosul during a U.S.-backed military effort to dislodge the group.
Arrested Indonesian woman says IS militant ordered bombing