Dhaka Cafe Attack 'Trainer' Killed: Bangladesh Police
Updated: September 03, 2016 00:06 IST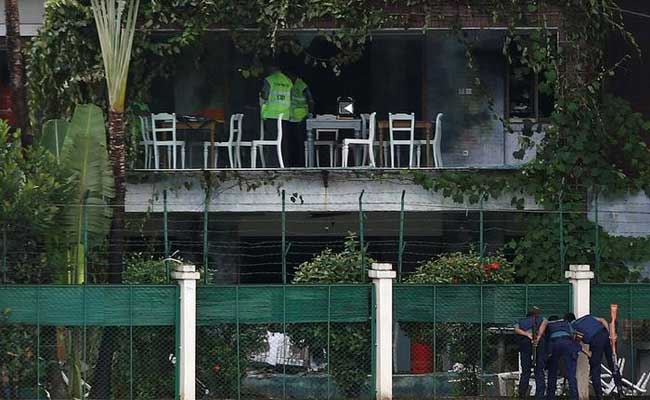 Dhaka: Bangladesh police today killed the suspected trainer of the terrorists who carried out a deadly attack on a cafe in July that killed 22 people, a senior police official said.

The terrorist, known as Murad, was the head of the military wing of Jamaat-ul-Mujahideen Bangladesh, which has pledged allegiance to Islamic State, said Sanwar Hossain, senior official of the Dhaka police counter-terrorism unit.

He was killed in a shootout during a raid just outside the capital Dhaka, Hossain told reporters. Two police officers were wounded.

The raid came six days after Bangladesh-born Canadian citizen Tamim Ahmed Chowdhury, accused of masterminding the attack on July 1, was killed in a gun battle.
Terrorist Suspected In Bangladesh Cafe Attack Killed Himself: Police
Updated: September 11, 2016 23:03 IST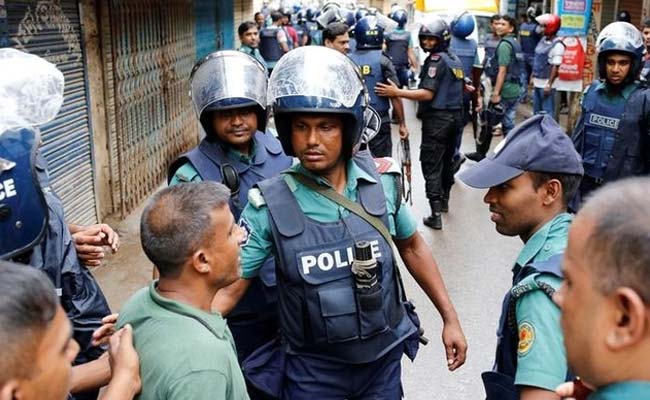 DHAKA: A suspected terrorist believed by Bangladesh police to have been among the planners of a July cafe attack that killed 22 people killed himself during a police raid on a hideout in the capital, police said on Sunday.

The July attack in Dhaka's diplomatic quarter was claimed by the jihadist group ISIS and was one of the most brazen in Bangladesh, hit by a spate of killings of liberals and members of religious minorities in the past year.

The government has pinned the blame on domestic militant groups, but security experts say the scale and sophistication of the incident suggest links to a trans-national Islamist network.

National police chief Shahidul Hoque said the dead man, Shamshed Hossain, was suspected to be one of the planners of the cafe attack, and to have rented a flat for the militants who carried it out.

"He killed himself inside the flat so that we can't collect information from him through interrogation," another official, Sanwar Hossain, told reporters on Sunday.

An autopsy report confirmed that the militant committed suicide by slitting his throat, doctors said on Sunday.

Police had earlier said they shot the man during Saturday's raid on the hideout.

Three women who were wounded and arrested in the raid also tried to kill themselves, Hossain added.

Five officers from the police counter-terrorism unit were wounded when women terrorists attacked them with chili powder, explosives and knives, police have said.

One of the women could have been the wife of a man killed last week in a shootout with police and believed to have trained the cafe attackers, police said.

Police have killed more than two dozen suspected militants in shootouts since the July attack, including its presumed mastermind, Bangladesh-born Canadian citizen Tamim Ahmed Chowdhury.

The United States believes elements of ISIS are "connected" to operatives in Bangladesh, U.S. Secretary of State John Kerry said during a visit to Dhaka last month.

The targeting of foreigners - nine Italians, seven Japanese, an American and an Indian were among those killed - could hurt foreign investment in the poor South Asian economy, whose $28-billion garments export industry is the world's second largest.
ISIS releases new video featuring Dhaka cafe attackers
Dhaka
: The Islamic State has released a new video featuring the five terrorists involved in Bangladesh's worst terror attack in which 22 people, including an Indian girl, were killed.
The five terrorists in the video came down heavily on Islamic scholars for resisting Muslims from joining the armed jihad of the dreaded Islamic State (IS) terror group.
"In the 15-minute video message released last night, both in Bangla and Arabic, the terrorist group calls on jihadis to launch armed attacks on atheists, apostates and crusaders as revenge for the persecution of IS fighters in Iraq and Syria and elsewhere," the 'Dhaka Tribune' reported.
The video was first released by the Arabic Nashir channel on Telegram. Nashir is the official IS media channel, it said. The five terrorists in the video, believed to be recorded sometime before the Gulshan attack, made statements to justify their stance, criticising the democratic system and political leaders.
Earlier in the day, IS' Bangla media At-Tamkin made an announcement on its website that they would release a video produced by the "Bilad al-Bengal media office". Bilad, in this context, means province or region, the report said.
The video, believed to have been recorded sometime before the Gulshan attack, was released less than a month after the law enforcers killed the attack's mastermind Tamim Ahmed Chowdhury or Sheikh Abu Ibrahim al-Hanif on August 27.
The attackers Nibras Islam, Rohan Imtiaz, Khairul Islam Payel, Shafiqul Islam Uzzal and Meer Saameh Mubasser were killed in a commando operation on July 2.
Twenty hostages, mostly foreigners, were hacked to death on July 1 by seven militants inside at a popular upscale eatery in Dhaka's Gulshan neighbourhood before commandos launched an assault, killing six attackers and capturing one alive.
Indian girl Tarushi, 19, who was among the hostages was killed in the attack. Two police officers were also killed in the attack on July 1.
Police launched a crackdown on militants after the two terror attacks- Holey Artisan Bakery and O' Kitchen (July 1) and Sholakia Eid congregation (July 7)- and have so far killed at least 31 members of the Jamaatul Mujahideen Bangladesh, which has links to the IS.
Bangladesh arrests 5 linked to deadly cafe siege
Published
Nov 17, 2016, 6:12 pm IST
The government maintains there is no organisational base of IS in Bangladesh, and that the attacks were carried out by a faction of banned militant group Jama'atul Mujahideen Bangladesh (JMB).
Dhaka
: Five people linked to the Islamist extremist group behind July's Dhaka cafe siege that left 22 hostages, most of them foreigners, dead have been arrested, Bangladesh police said Thursday.
An Islamic spiritual leader and an explosives expert were among the group detained in a series of raids in the capital late Wednesday and early Thursday, the Rapid Action Battalion (RAB) police unit said.
"They belonged to Sarwar-Tamim group of the Jamayetul Mujahideen Bangladesh (JMB)," RAB said in a statement, referring to the extremist group the government has blamed for the July attack.
RAB said a 27-year-old electrical engineer who made explosives for the group and provided training, and a 40-year-old spiritual leader who preached Jihad to the group's budding extremists were among those arrested.
The ISIS group and Al Qaeda in the Indian Subcontinent claimed responsibility for the siege at Holey Artisan Bakery cafe in Dhaka's posh Gulshan neighbourhood.
But Prime Minister Sheikh Hasina's government has blamed the homegrown JMB and another group called Ansarullah Bangla Team (ABT).
The leader of the JMB, Sarwar Jahan, and the mastermind of the cafe siege, Tamim Chowdhury, a Canadian citizen of Bangladeshi origin, were both killed in raids outside the capital by security forces in recent months. The July carnage triggered a security force crackdown on Islamist extremists, with police shooting dead nearly 40 suspected militants and arresting scores more since.
Bangladesh arrests another plotter behind Dhaka cafe siege
Dhaka:
Bangladeshi police Saturday said they have arrested an Islamist extremist accused of being one of the "masterminds" of 2016's deadly siege at a Dhaka cafe where 22 hostages were killed.
A police spokesman said Jahangir Alam was detained Friday night by counter-terrorism forces in Elenga, a town some 120 kilometres north of the capital. "He is one of the main masterminds of the Holey Artisan Bakery (cafe) attack," Yusuf Ali, an Additional Deputy Commissioner of the Dhaka police force, said. "He was a member of a new faction of Jamayetul Mujahideen Bangladesh (JMB) and was directly involved in the murder of at least 22 religious minorities including Hindu priests and a Christian and foreigners (at the cafe)," he said.
Sanwar Hossain, an Additional Deputy Commissioner of the police's counter-terrorism and transnational crime unit, said Alam was a close associate of Tamim Chowdhury, the slain Bangladeshi Canadian, who was named as the primary architect of the cafe siege.
"(Alam) was notorious. He led around two dozen attacks on religious minorities outside the capital," he said.
Bangladesh cafe attack: 4 members of Islamist militant group arrested
Updated
Feb 1, 2017
Dhaka
: Bangladesh security forces on Wednesday arrested four members of an Islamist militant group blamed for an attack on a cafe in Dhaka in 2016 which killed 22 people, most of them foreigners. The four arrested, aged 21 and 28, were members of a faction of the Jamaat-ul-Mujahideen Bangladesh (JMB) militant group, known as New JMB, which has pledged allegiance to Islamic State and which police believe was involved in organising the cafe attack.
"One of them was the IT head of the group," Mufti Mahmud Khan, spokesman of the police-led Rapid Action Battalion, which is involved in counter-terrorism efforts. They were arrested in a raid on a house on the outskirts of the capital Dhaka, he said, adding that firearms and a huge quality of explosives were found. Police have killed around 50 suspected Islamists in raids since the cafe attack, including the man police said was the attack mastermind, Bangladesh-born Canadian citizen Tamim Ahmed Chowdhury.