IS is Islamic terrorism, says P Jayarajan
Published
Aug 5, 2016, 2:03 am IST
Kannur: CPM district secretary P. Jayarajan has slammed the remarks of Salafi scholar Mujahid Balussery for his take on terrorism and religion at a discussion held in Thalasserry on Tuesday. In his Facebook post on Wednesday, Mr Jayarajan said there was nothing wrong in calling Islamic State as Islamic terrorism.
"If the terror activities of Sangh Parivar could be termed as Hindutva terrorism, there is nothing wrong with the term Islamic terrorism. Mr Balussery's argument that the usage religious terrorism should be replaced by anti-religious terrorism is stupidity," he said. Mr Jayarajan said, during his speech, Mr Balussery had denounced the imperialist forces behind the IS but at the same time supported Saudi Arabia.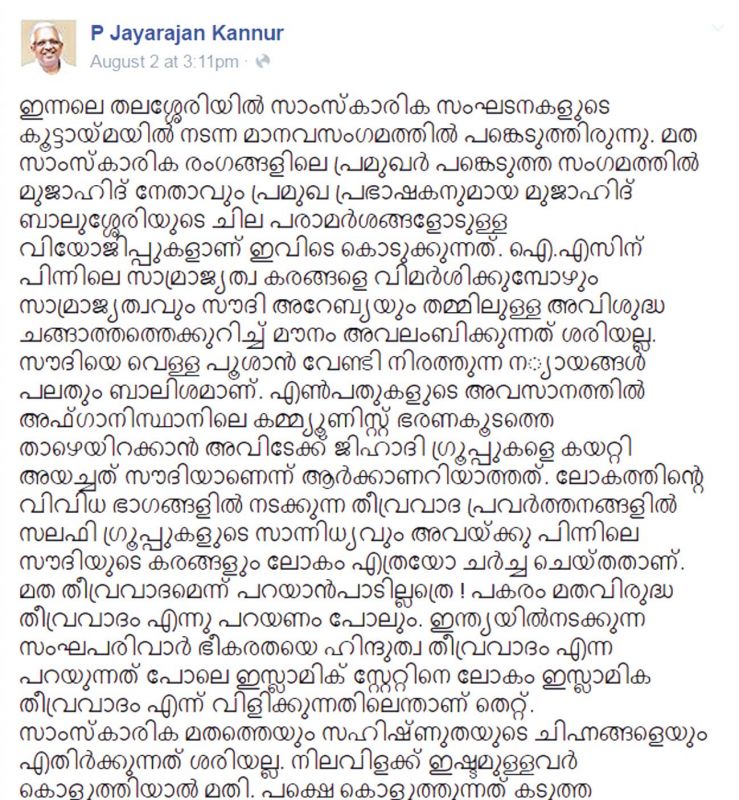 "While criticising imperialist forces, it is not welcome to cover up the tie-up of Saudi with the same imperialist forces. Saudi Arabia and its extreme Salafist ideology had caused terrorist activities in many parts of the globe," he reminded. Relating to Zakir Naik, he said if Hindutva forces were trying to nail Mr Naik, it should be opposed. "But at the same time it should not be a justification to the intolerance and narrow religiosity being propagated by Zakir Naik," the CPM leader said.
In the same post, he hailed another Mujahid preacher, C.P. Salim. Mujahid Balusserry is associated with the 'wisdom global Islamic mission' section of Mujahids. The programme against, 'religious terrorism' was conducted by O.V. Abdulla Memorial Trust and Dr Hussain Randathani and Swami Shiva Swaroopananda were among speakers.