From fish curry to war: 'Indian in Syria' calls out to his homeland
Updated: July 14, 2016 7:57 am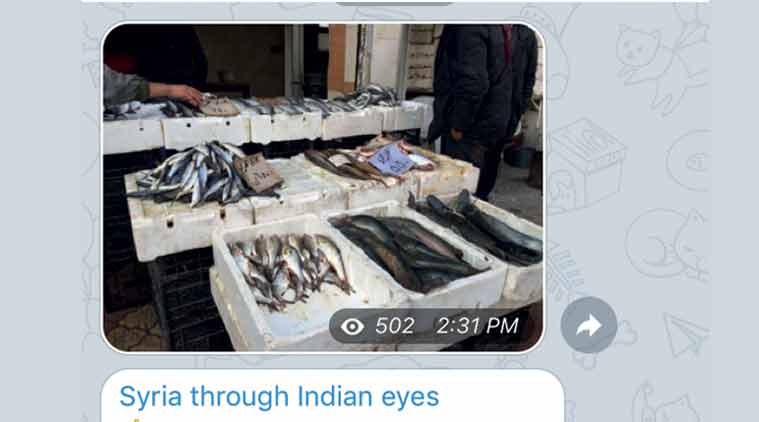 The blog is, at first glance, exactly like dozens of others run by young Indian men abroad, cast loose for the first time from the warm embrace of their mothers' kitchens. "Looking for a perfect Indian fish curry," it says in one place. There's a query about whether anyone knows if the local cherries can be pickled. "Yummy Indian pakodas, chicken cutlets, jilabees (sic) and tamarind juice," the blogger exults at another point.
Except, Indian in Sham isn't just another expat blog: it's the voice of the jihad in Syria, run out of Aleppo, reaching out to hundreds of elite, English-speaking followers in India, in search of their funds, education and service. The man behind it, Indian intelligence services allege, is a one-time Kerala resident, Abu Thahir, a 27-year-old who left home in 2013 and joined the al-Qaeda affiliate, Jabhat al-Nusra. In an exclusive interview to The Indian Express, the first by any Indian in Syria, the blogger denied he was Abu Thahir. "You can call me Abu Usama," he said.
Now, as Indians contemplate the curious story of 21 Kerala residents believed to have disappeared into Syria — some with their spouses and children — the blog and its author cast unprecedented insight into the online world that's drawing growing numbers into the savage war.
For Indian in Sham, his role in that war rests on a simple premise: "Defending Muslim land is top priority." Abdullah Azzam, Osama bin Laden's mentor and the patriarch of the Arab jihadists in Afghanistan, put it thus in his seminal work, The Defence of the Muslim Lands: "After 1,300 years of Islamic rule; a glorious empire the world once feared; a people entrusted with the final revelation of God; the religion entrusted with the whole of humanity — where is it today." The road to salvation, for Indian in Sham as well as for Azzam, lies in a passage attributed to the Prophet Muhammad: "The parable of the believers in their affection, mercy and compassion for each other is that of a body: when any limb aches, the whole body reacts with sleeplessness and fever."
Azzam's message, along with his finding that participation was an obligation incumbent on all adult Muslims, led thousands to join al-Qaeda's cause.
Indian in Sham's blog calls out to followers to participate in building a utopia. In an Islamic system, Indian in Sham told The Indian Express, "there is no threat of violence, robbery, rape, bribe, murder".
"Equal rights can be observed when it comes to daily needs," he said. He described educational institutions that had been rebuilt after Syrian military attacks, and a thriving school system. "In the near future," he went on, "poverty will be eradicated, with the help of Allah."
On the blog, there are pictures of clothing stores, pomegranate farms and even an aubergine gifted by a local farmer. In Syria, he said, he has found relationships that "remind me of the Prophet's time, between his helpers and the migrants". "Daughters of Islam," reads one post, on an advertisement for clothing on display in a town square, "time ticking — hijab stock running out!"
This month, Amnesty International released a report documenting a darker reality: torture and summary executions of religious minorities, human rights activists and even children by members of five Islamist groups, including Jabhat al-Nusra and its ally, Ahrar-ul-Sham, in Aleppo and Idlib — areas where Indian in Sham is working.
Indian in Sham appears, however, to see accounts like these as one-sided. The media, he noted, "highlight only the atrocities of the Islamic State, but neglect the fact that (Syrian President) Bashar (al-Assad) and his allies have kidnapped, imprisoned, tortured and raped thousands of Muslim women".
Fighting figures little in Indian in Shams' blog: "I portray what is not highlighted in other media." His own experience of violence, though, appears almost mystical. In an interview to an Islamic radio station, he described a raid across enemy lines to retrieve a fallen fighter's body thus: "Listeners might not believe me, you know, but the body — we had to follow the scent of his body. You know, it was emitting pure musk."
Images of killing, though, are a leitmotif in Indian in Sham's blog — he regularly posts pictures of maimed children, their bodies torn apart by Russian bombing.
Four children killed in an airstrike lie in a line. Indian in Sham records watching their father. "Looking at him, I wonder what he thinks. How can we help him?"
Little is known about Indian in Sham's background — and he isn't forthcoming. "Born in a middle class family and a graduate," he said. "I had a comfortable and easy life back in India. My family was aware of my decision and supported it. Islamically, it is an obligation to support anyone who is oppressed and deprived of his rights."
In an interview to an Islamic radio station, Indian in Sham said his expertise was in media — something which tallies with the intelligence assessment of his real identity. Abu Thahir worked for the Popular Front of India's magazine, Thejas, before leaving for Doha. A friend of his, speaking to The Indian Express, said the voice in the radio interview appeared to be that of Abu Thahir, but added that he could not be certain, because of the years that had elapsed since they had last spoken.
Either way, the social profile of Indian in Sham is similar to many of those drawn to the cause. Abdul Rashid Abdulla, the leader of the small neo-fundamentalist cult believed to have disappeared into Syria, was the son of an affluent Oman-based businessman, with an Technology degree. He taught at the Peace College, where he recruited many of his followers — often members of other faiths.
Neo-fundamentalist cults like these have proliferated across Kerala and the wider region — few of them violent. For example, Salafists at Atthikkat led a reclusive life modelled on that of the Prophet, down to trying to set up a goat farm. Olivier Roy, a French scholar of neo-fundamentalist movements, has noted that they tend to draw people who feel unable to fit into their cultural milieu, instead seeking to create what they imagine to be an authentically Islamic society. The neo-fundamentalists have "recast religion outside of cultural contexts", Roy writes.
For Indian in Sham, there seems to be no thought that this new Islamic utopia may be defeated. Progress reported to have been made by Syrian government forces with Russian help, he insisted, "was reversed over the last month, especially in the month of victory, Ramadan". His assessment was that people were headed towards "a life filled with comfort and security, inshallah".