Teens Who Bombed Gurudwara In Germany Were ISIS Sympathisers, Say Authorities
Updated: April 29, 2016 17:13 IST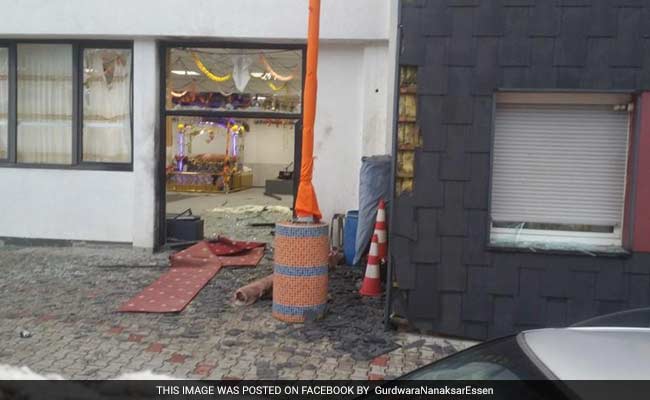 Berlin:
Two secondary school students accused of carrying out a
bomb attack on a gurudwara in the German city of Essen
nearly two weeks ago are radical Islamists and sympathisers of the ISIS and al-Qaeda, authorities said.
The two allegedly detonated a fire extinguisher filled with explosives at the entrance of the Nanaksar Satsang Sabha Gurudwara on the evening of April 16.
Before setting off the explosion, the students unsuccessfully tried to break into the gurudwara through the entrance door, North Rhine Westphalia (NRW) Interior Minister Ralf Jaeger said yesterday in a report presented to the home affairs committee of the state parliament in Duesseldorf.
They have admitted carrying out the attack, but denied that it was a religious motivated operation, the report said. They told their investigators that they did it "just for the kick of building fireworks".
The two from Essen and the neighbouring town of Gelsenkirchen are known to police as members of the radical Salafist sect of Islam, the report said.
One of them was interrogated by police in connection with his involvement in cases of causing grievous bodily harm and attempted burglary.
He had also expressed his sympathy for ISIS and al-Qaeda, the report said.
His accomplice has been participating in a special programme of the interior ministry for Salafists who have a tendency to get involved in violence and are in danger of being drawn to IS and other terror organisations.
He came under police radar attention after threatening a Jewish fellow-student and attempting to obtain firearms, the report said.
They were arrested four days after an explosion ripped through the entrance hall of the gurudwara, which hosted a wedding ceremony.
Most of the wedding guests had left the Sikh temple to a nearby hall for a reception when the bomb was detonated.
A priest of the gurudwara was seriously injured in the blast and had to be admitted to a hospital while two others were treated for minor injuries by emergency medical teams at the scene of the blast.
The explosion caused severe damage to the gurudwara building.
The two men were tracked down by police after CCTV camera footage showed one of them carried a backpack with the logo "Russel Athletic".
Investigators found the remains of a similar backpack in the debris of the blast.
The report said that video footage of a CCTV camera placed on a nearby building and at a metro station played a crucial role in apprehending the two men.
They are currently in preventive custody.
'What's happening to our children?'
Published on February 11, 2017
ESSEN, Germany — The package ordered online arrived at his second-floor apartment on a brisk Saturday morning, a cardboard box packed with magnesium, potassium nitrate and aluminum powder for a homemade bomb. Weeks ahead of the attack, police said, the terrorist cell's leader — an Islamist his comrades called the Emir — had issued precautionary orders.

"Delete ALL pictures and videos of the Islamic State," the Emir warned via WhatsApp.
"Delete your chats."
"Everything that is weapon-like or similar (also bombs) must be immediately disposed of. . . . Sell it, give it away, move it or destroy it."

And then one night last April, officials said, the Emir — a Muslim title for an exalted leader — led two cell members to a Sikh house of worship in this industrial city and hurled the bomb toward its door. A deafening boom rang out. Orange flames lit a mosaic of blood and shattered glass. Inside, victims screamed as the assailants fled.
All three terrorists were 16-year-old boys, according to German police.
"Our children!" cried Neriman Yaman, 37, mother of the Emir, whose first name is Yusuf, in an interview after attending a court hearing for her son. "What is happening to our children?"

The threat presented by the Islamic State is taking on a new form: child terrorists either directly in contact with or inspired by the militant group. Even as it suffers setbacks on the battlefield in Iraq and Syria, the Islamic State is cultivating adolescents in the West, who are being asked to stay in their home countries and strike targets with whatever weapons are available, such as knives and crude bombs. A 16-year-old girl was among four people arrested in the south of France on suspicion of planning a terrorist attack, French authorities said Friday.
"The amount of Islamic State videos and propaganda aimed at children has really jumped in recent months," said Daniel Koehler, director of the German Institute on Radicalization and Deradicalization Studies. "We haven't seen anything quite like this, not on this scale and of this quality. They know that in the West, you don't expect a 10-year-old to be a terror suspect."
Last September, German authorities arrested a 16-year-old Syrian asylum seeker after they discovered the young man was in contact with an Islamic State handler who was teaching him how to build a bomb.
In December, a 12-year-old German Iraqi boy — guided by an Islamic State contact in the Middle East who warmly addressed him as "brother" and groomed the boy via the encrypted messaging app Telegram — built and tried to detonate a bomb near a shopping center in the western German city of Ludwigshafen. The device failed to explode.
The boy had been "headhunted" by the Islamic State, officials said, after searching radical websites online. A 17-year-old accomplice was later arrested in Austria.
Last month, a 15-year-old girl — the daughter of a German convert to Islam and a Moroccan mother — was sentenced to six years in prison for an attack last February on a German police officer in Hanover. She gouged him in the neck with a kitchen knife, causing life-threatening injuries after being befriended and cajoled by an Islamic State instructor via a text messaging service.
All told in Germany, at least 10 minors have been involved in five plots over the past 12 months. In a country where militants disguised as migrants have been blamed for a terrorist plague, most of the minors were homegrown threats born in Germany.

Worse, authorities said, is that the intelligence community is often blind to the threat posed by these teens and preteens.
Officials lack the legal authority to track children the same way they monitor adults, creating what German authorities describe as one of their greatest counterterrorism challenges. Intelligence agencies here have identified at least 120 minors who have become dangerously radicalized — and some of them cannot be intensely monitored because of domestic laws protecting children, officials said.
German law was amended last year to allow for the collection of data on suspects as young as 14. But officials now argue that is not young enough.
"Our service mainly focuses on adults," said Hans-Georg Maassen, head of Germany's domestic intelligence agency. "We are allowed to monitor minors and record them in our databases in exceptional cases only, but they have to be aged 14 or over. Normally people do not expect children to commit terrorist attacks. But they can and are."
He added: "What is really worrying is that people frequently look the other way. They say it's just a phase of adolescence and surely they will grow out of it. Often parents don't really know what their children are doing in their rooms."