Cops meet maulanas in Pune, Islamic scholars to stem ISIS threat
Published:March 11, 2016 4:21 am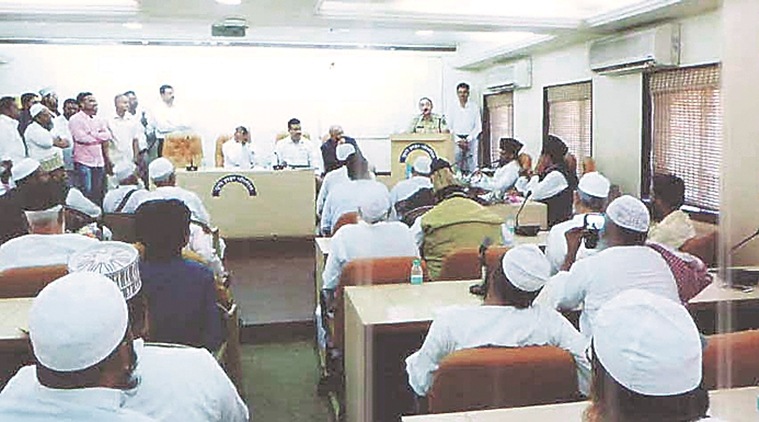 Seeking to create awareness against the activities of terror group Islamic State (IS), the Pune city police on Thursday conducted a meeting of Maulanas from various Masjids and religious Islamic scholars.
About 225 Maulanas and Islamic scholars were present for this meeting held at the Pune commissionerate. According to a press release issued by the police, city commissioner K K Pathak, additional commissioner of police C H Wakade, deputy commissioner of police (special branch) Shrikant Pathak and other seniors officers attended the event.
Assistant police inspector Vijay Kare of the special branch co-ordinated the meeting. DCP Shrikant Pathak gave a briefing on the modus operandi of IS and how the operatives of the terror group, while based in foreign countries, are trying to lure Indian youths through social networking sites and chat rooms.
Officers said that IS is against Islam and has not received much response in India, when compared with many other countries. But, the officials said, there have been incidents of some Indian youths coming in contact with IS operatives through social media, and hence there is a need to create awareness on this issue.
A retired professor, Najruddin, who was the key speaker during the meeting, said that Islam is against terrorism. He said everyone should read Quran to understand the real values and principles of Islam.
Shaikh Abuzaid Zamir, one of the participants, said that terror groups are spreading the wrong definition of Jihad among the youth, and some vulnerable people, specially those economically and educationally backward, are falling prey to it. Zamir said that Maulanas should interact more with these youths to ensure they are not misguided by the extremist elements.
Maulana Nizamudding Fakruddin, Maulana Mufti Anwar Sohail, Professor Shahid Khot and Maulana Kari Idris also expressed their views on the occasion. Police commissioner Pathak said that it is our social responsibility to ensure that youths in our society are not dragged in to the vicious campaigns of terror groups like IS.