Engineering student arrested for 'IS links' in Durgapur, Bengal
Published: March 18, 2016 3:42 am
THE National Investigation Agency (NIA) on Thursday arrested a 19-year-old student of mechanical engineering in Durgapur in connection with its case against the Islamic State (IS).
A resident of Hooghly, Ashiq Ahmed was arrested by the agency after several days of questioning. He is alleged to be part of the Junud-al-Khilafa-e-Hind (JKH), a self-appointed IS "franchise" run on the directions of former Indian Mujahideen operative Shafi Armar.
According to NIA sources, Ahmed was not only in touch with various members of the group — 20 of them are already in NIA custody — but was also planning to kill a Trinamool Congress MLA who is suspected to be involved in the murder of a Muslim political rival.
Sources said Ahmed came in contact with Mohammed Nafees Khan, finance chief of JKH, while surfing jihadi videos over the internet. Khan, who is currently under arrest, reportedly met Ahmed in Kolkata and got him appointed as the chief of JKH's Bengal unit.
"Ahmed took Khan around Kolkata to identify vital installations that could be targeted by JKH. Ahmed also expressed his intention to target a TMC MLA for the murder of a Muslim political rival. However, all these plans were still at a nascent stage," said an NIA officer.
NIA sources said Ahmed, the son of a farmer, was good in studies. The lure of IS pulled him into jihadi chat forums over the internet in the past one year, said sources. This is how he met Khan and several other members.
"On instructions from Khan, Ahmed also got in touch with five youths in West Bengal and was motivating them to join jihadi activity," said an NIA officer.
Meanwhile, the Home Ministry has handed over the cases of suspected IS operatives in custody of Delhi Police and Maharashtra ATS to the NIA. Since all the accused were part of the same group, a decision was taken to hand over the cases to NIA, which has registered an "open FIR" against the IS.
"The agency will soon take custody of the accused with the two police forces," said an MHA official.
Among IS arrests, youth in love who wanted plastic surgery
Published:May 16, 2016 5:50 am
A 19-year-old student of mechanical engineering arrested by the National Investigation Agency (NIA) has claimed that he wanted to travel to Afghanistan to cultivate poppy so that he could make money for plastic surgery to change his appearance and be with the girl he loved.
Ashiq Ahmed is among the 18 men arrested by the NIA since December 2015 for alleged links to the Islamic State (IS). Ashiq has told investigators that he also wanted to convert because the girl, a Hindu, had made it clear that she would not be able to cast aside either her religion or her family for him.
Ashiq's confessional statement, recorded under section 164 of the CrPC by a judge, along with statements given by Bengaluru-based Mohammed Abdul Ahad, 46, and Mohammed Afzal, 35, both of whom were arrested on January 22, will form a crucial part of the NIA's chargesheets in the case, The Indian Express has learnt.
The NIA has also gathered electronic evidence in the form of chats. These too will be cited in the chargesheets.
In his confession, Ashiq, a resident of Hooghly in West Bengal, is learnt to have said: "When I was studying in Class 11 and 12, I had an affair with a girl (name withheld). I loved her with all my heart. One of my friends (name withheld) was also in love with the same girl, and had also proposed to her. I even had a fight with my friend over this.
"My friend then informed the girl's family about it. Her father came to our school and created a ruckus. After this, she broke off our relationship. She told me that she could not leave her religion or her people for me. I then thought I would undergo plastic surgery, change my name and convert my faith and face the girl's family. For this, I decided to go to Afghanistan and earn money through opium cultivation.
"I visited a fair near the Iranian Dargah and bought a book on Imam Mahdi (the prophesied redeemer of Islam). It said he would come from Afghanistan and Khorasan. It said that he would be the ultimate Khalifa (leader of the Caliphate) and would end all injustice. I then began searching for more on this, and for this I started searching about Afghanistan and Khorasan. During these searches, I also came across speeches of Masood Azhar (chief of Pakistan-based terror group Jaish-e-Mohammed).
"The book said that the Imam Mahdi would have a black flag. In searches, I saw that that a large number of organisations had black flags. I created a
Facebook
ID under the name Ashik Pathan, and added a man based in Afghanistan. I chatted with him about Afghanistan, and he told me that Pakistan and Iran were its enemies. I even thought I would join AIMIM through this ID, but didn't do so as I didn't get any support," he said.
Ashiq is learnt to have added: "I then created an ID under the name Mujahid Islam, and through this, in March 2015, I came into contact with Mohammed Zahid, who said he stayed in UP. He said Muslims are being subjected to atrocities. He said we should unite and carry out jehad."
Ashiq has also said he was put it touch with Ahmad Ali of Ansar ul Tawhid fi Bilad al Hind (AuT), an alleged India-specific terror group that has pledged allegiance to the IS.
Among the transcripts of messages shared by the accused on various platforms are chats from "Yusuf al Hindi", believed to be the former Indian Mujahideen operative Shafi Armar. Armar, who belongs to Bhatkal in Karnataka, is alleged to be the Syria-based handler of the local IS affiliate Junood al Khilafa e Hind, floated by the arrested men.
Consider these:
* At 11:59 am on September 25 last year, Mohammed Naseer, a 23-year-old computer engineer from Tamil Nadu, allegedly sent a text message from Sudan to his father in Dubai: "Assalamu Alaikum Warahmatullahi Wabaralathu. Pray for me, for I will never forget you in my prayer and it's my hope and prayer that we meet again if not in this world then in jannah (Paradise). I love you all. May Allah grant us understanding and guide us all to the straight path. I have reached to the Islamic State (IS). I know it might sound kind of crazy for you but your son really had to take this bold step to get out of the corrupt system which has democracy first on its list. There is no comeback, my father. Don't go to police as they will torture you and they cannot find me. May Allah bless you with guidance, hijrah and jannah."
Naseer was deported to India from Sudan on December 10 last year, while allegedly attempting to go to Libya to join the IS. He allegedly stayed at a safe house in Khartoum from September 25 to October 5, 2015, and underwent a preliminary IS training course. After Indian agencies informed Sudan's government about Naseer's presence, the information was verified by local authorities, and he was detained on October 5.
* On May 10, 2015, Naseer sent an e-mail to a relative: "Take care of mom and I'm very safe here. What you see in news is just propaganda. Life here is wonderful. I want you all to come to Dawlah. I will be always in contact. Soon I will give you a number to contact me. If it takes two or three days in replying you, don't worry. I will be always in contact. You all are in duas always."
* In a Skype chat with Mohammed Nafees Khan, 24, arrested from Hyderabad on January 22, Yousuf al Hindi allegedly said: "The world should not be ruled by the laws made by human being, on the country (sic), we ruled by the sharia law."
* In another Skype chat, Yousuf Al Hindi allegedly passed on a link to Nafees Khan: "Bomb banane ka asaan tarika".
* In a Skype chat with Mudabbir Mushtaq Sheikh, arrested from Mumbra on January 22, Yousuf al Hindi instructed: "Learn to make timer by the use of mobile phone". He also allegedly wanted to send money for zakaat.
ISIS Indian recruit says they were asked to infiltrate Kanhaiya stir, burn vehicles: Report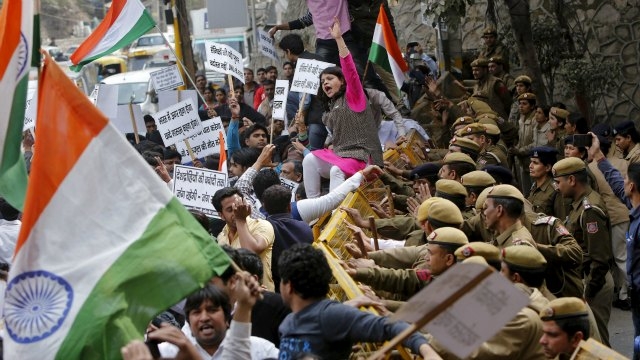 After the arrest of JNUSU president Kanhaiya Kumar in February this year, the Islamic State reportedly wanted to take the advantage of the situation and had asked its recruits to infiltrate the stir by burning vehicles.
According to a
Times of Indi
a report, when Kanhaiya was arrested on sedition charges, ISIS' Ahmad Ali had reportedly asked 19-year-old Ashiq Ahmad alias Raja of Hooghly, to infiltrate the student movement and burn vehicles and oil tankers using petrol.
The report cited the information to statements made under Section 164 of CrPC by recruits of India's ISIS wing recruit — Junud al Khalifa-e-Hind (JKH). The NIA has reportedly recorded the statements of three recruits - Ashiq Ahmad alias Raja, Mohammad Abdul Ahad and Mohammad Afzal. They said they were asked to agitate the students further and create disorder in the country.
In a statement, one of the recruits, Ashiq said that Ahmed Ali, who claimed to head the Ansar-ut Tawhid fi Bilad al-Hind (AuT), contacted him on February 19 through his ID on the Trillion app. Some 14 members of the IS had been caught by the NIA by this time. The report quotes Ashiq as saying, "He told me that agencies are keeping a tab on us. He told me that a student movement is happening in the country and that we should enter and put vehicles, oil tankers on fire."
It is suspected that Ali is none other than Shafi Armar, the head of ISIS in India who is learnt to have died in a recent US drone attack, the report added.
Ashiq was caught by the NIA on February 22. AuT is connected to ISIS and the outfit opened JKH in India and planned to have a unit in every state, as claimed by another recruit Ahad.
ISIS India recruits: A techie, a businessman and a 'heartbroken' teen
New Delhi, May 17, 2016
Recent media reports claimed that Islamic State (ISIS) recruits in India wanted to wreak havoc in the country taking advantage of the student movement that broke out in several cities after the arrest of JNU student union president Kanhaiya Kumar.
Three ISIS recruits were handed over the job to use the students' stir to create further trouble. The sinister plan was revealed by the three ISIS operatives - Mohammad Abdul Ahad, Mohammad Afzal and Ashiq Ahmad alias Raja.
But details about the background of these terror recruits will shock you even more.
Mohammed Abdul Ahad: The guy who wanted to help poor
Ahad, 46, has a masters degree in Science from US. He has worked in US, Singapore, Saudi Arabia and the UAE. Ahad always wanted to help the poor belonging to his community and was involved in philanthropy through the web. But the door to ISIS opened for him when he went for a meet of 'mujahids' in Tumakuru, Karnataka. The meeting he thought would be on Zakat or tax for poor. But Ahad soon found out that he was wrong.
It was after several rounds of meeting, the real structure of ISIS emerged and Ahad realised the main agenda of his 'managers'.
ISIS' India wing - Junud al Khalifa-e-Hind (JKH) was looking to expand its team and have more people on board. There was need for an Amer and a second in command and his own team. But Mohammed Abdul Ahad was not happy with the fact that poor were not being helped, investigators said.
Mohammad Afzal: The techie
Mohammed Afzal, 35, did his diploma in electrical and electronics engineerng from IHS, Bengaluru. Afzal got in touch with a Mujahid and went to Tumakuru to attend a gathering where he met Ahad and other set of youngsters. But he soon realised that something was wrong.
Afzal told the investigators that he broke away from the ISIS on the pretext that he has family and business to look after.
Ashik Ahmed: The 'loverboy'
Ashik Ahmed's story is the most interesting of the lot. The 19-year-old fell in love with a Hindu girl.
However, the girl as well as her family rejected him. Dejected, Ashik decided to join ISIS. He soon won the trust of top ISIS handler Shafi Armar. But his arrest earlier this year, nipped his rise within ranks of ISIS.
(The report is based on the statements of the three recruits recorded by the NIA under Section 164 of CRPC. This will be an important part of the NIA chargesheet.)