India, UAE agree to step up terror fight
Published:February 12, 2016 1:21 am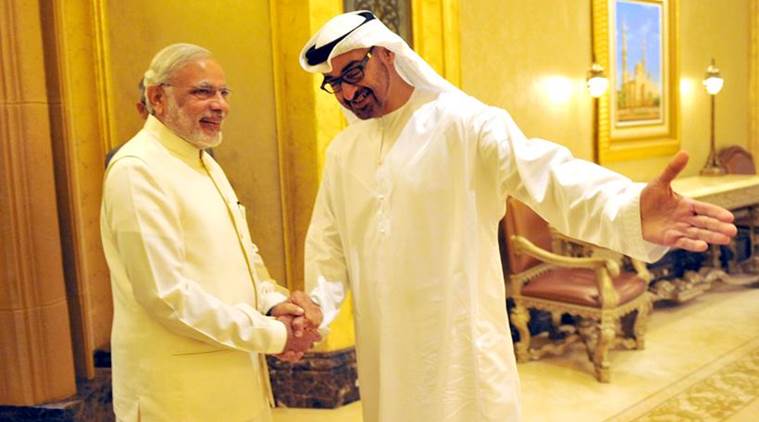 Describing "terrorism as a common threat" to India and the UAE, Prime Minister Narendra Modi and the visiting Crown Prince of Abu Dhabi, Sheikh Mohamed bin Zayed Al Nahyan, on Thursday agreed to step up counter-terrorism cooperation, government sources said.
Briefing a select group of journalists, UAE's Minister of State (Foreign Affairs) Anwar Gargash said, "We have zero tolerance towards extremism and terrorism. It is a generational fight… it is going to be a marathon, and not a sprint. We have to fight it through cooperation on many fronts — security, military, and also fight the perverted thoughts."
The India-UAE joint statement, which will be issued Friday after the Crown Prince's Mumbai leg gets over, will lay emphasis on "de-radicalisation" and cooperation against "extremism and terrorism". The UAE has devised a couple of ways — by opening deradicalisation centres to counter extremist propaganda — and those experiences will be shared with India, sources said.
Sources said External Affairs Minister Sushma Swaraj had a detailed discussion on the IS threat, the situation in Syria and ways to counter radicalisation, when she called on Al Nahyan on Wednesday evening. Besides terrorism and extremism, sources said Modi and Al Nahyan on Thursday discussed issues pertaining to increasing bilateral trade by 60 per cent, UAE's investments in India's infrastructure, food security and maritime security. The Crown Prince also praised the 2.5 million-strong Indian community in the UAE for their "law-abiding and hardworking nature".
The two sides signed seven agreements covering the fields of cyber security, infrastructure investment, renewable energy, space cooperation, insurance, skill development and culture. A deal on currency swap arrangements will be exchanged in Mumbai on Friday between EXIM bank and Dubai Economic Council. Apart from meeting the PM, the Crown Prince also met President Pranab Mukherjee. Mukherjee said India attaches high priority to enhancing bilateral investment ties with the UAE. The President also hosted a private lunch in honour of the Crown Prince.