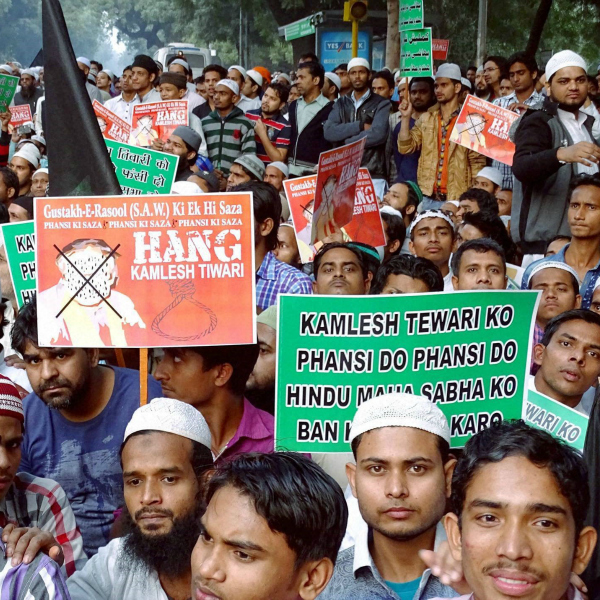 The police detained eight persons on Saturday for allegedly shouting slogans in support of the Islamic State (IS) during a rally in Tonk district's Malpura area on Friday (
December 11th 2015).
"About 200 people had marched from the mosque through the Malpura town shouting slogans against Kamlesh Tiwari [of the Hindu Mahasabha in Uttar Pradesh, who had recently made remarks against Prophet Muhammad] and demanding that he be hanged. Some miscreants in the mob started shouting pro-IS slogans," said Tonk Superint-endent of Police Deepak Kumar. "A case was filed [on Friday] under Section 153 (A) of the Indian Penal Code (promoting enmity between different communities) against known and unknown persons and we detained eight persons [on Saturday]."
After Azam Khan, the controversial politician from Uttar Pradesh
who defended the Paris attacks,
called members of the Hindu group the RSS "homosexuals," self-proclaimed Hindu Mahasabha activist Kamlesh Tiwari called the Prophet Muhammad "the first homosexual in the world." Khan's statements were supposedly prompted by
BJP leader Arun Jaitley's opinion
that an Indian law outlawing homosexuality needed to be reconsidered by the courts.
Tiwari was arrested in Lucknow the same day, and he was disowned by the Hindu Mahasabha who
claimed
that he wasn't part of the outfit. The group said that the BJP and RSS had made up the fact to tarnish their image.
According to a report, Samajwadi Party's media convener Javed Ansari said that the protestors had
two demands:
Death penalty for Kamlesh Tiwari which should exist for anyone who insults the Prophet
Stricter laws against religious leaders who make hate speeches
On the other hand, Shia cleric Maulana Kalbe Jawwad has demanded capital punishment against Azam Khan for his statements. The
Indian Express
quoted him as saying
: "
All this happened due to conspiracy of Hindu Mahasabha and the minister (Azam) so that Muslims and Hindus continue fighting and votes are divided... This Muslim minister is tarnishing the image of the government. After his controversial statement, Tiwari gathered courage to issue derogatory statement against Prophet Muhammad."